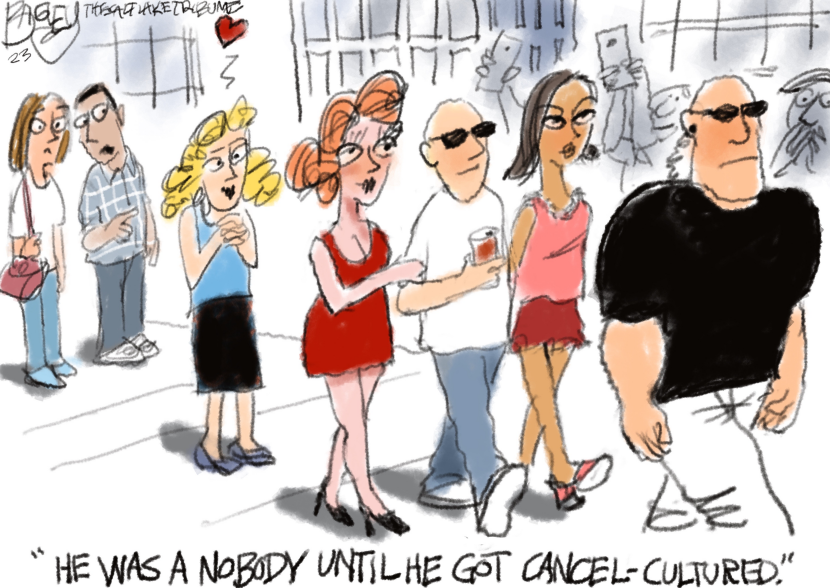 Subscribers Only Content
High resolution image downloads are available to subscribers only.
---
Not a subscriber? Try one of the following options:
OUR SERVICES
PAY-PER-USE LICENSING
FREE TRIAL
Get A Free 30 Day Trial.
No Obligation. No Automatic Rebilling. No Risk.
Facebook has a feature called Memories, which culls from old posts and allows you to see what was of interest on any given date over the years that you've been on the platform.
It's an interesting window into your activities, your priorities and your relationships from the recent, or distant, past.
Recently, the overwhelming majority of my posts from mid-June 2020 had to do with a controversy involving the removal of a statue of Christopher Columbus in South Philadelphia's Marconi Plaza.
Hyperbole is my go-to when I'm angry. In one video filmed at midnight on June 14th, I'm patrolling the corner near the plaza, assuring my followers that what I called "city fascists" have not yet taken it down. There were also photos of me surrounded by other concerned citizens promising a legal fight if the city tried to erase the heritage of Italian Americans.
Viewing these posts from a three-year vantage point elicits two very different emotions in me: anger that we were so easily consumed by this Stalinist desire to control messages and rewrite history, and a cautious sense of relief that we were able to resist the most draconian aspects of the thought purges.
I say "cautious" because we are far from being out of Siberia, even today.
This brings me to a recent example of self-cancellation by acclaimed novelist Elizabeth Gilbert.
The author of "Eat, Pray, Love," the classic memoir about a woman finding her voice and cultivating her independence after a divorce, has just announced that she is halting publication of her most recent book entitled "The Snow Forest."
Set in Siberia in the 1930s, it was a historical novel about a family of activists under Stalin. When word got out about the book's setting, outraged people started leaving one-star reviews at online sites like Amazon, and criticized the author's decision to "honor" the evil Russian empire by placing her story in that setting.
Ukrainian readers were particularly incensed. So, Gilbert delivered the usual white woke progressive version of a hostage video, and announce that she was shelving her book.
I can only imagine what Boris Pasternak would have felt about that, were he not long dead. The beloved, legendary author of "Doctor Zhivago" faced deportation and persecution because he refused to bow to Stalin and his totalitarian thugs, and some well-heeled post-menopausal woman is afraid of social pressure.
There have been other cases of cancellation over the past few years, some tied to Black Lives Matter and others to the MeToo movement, and a few others are connected to the increasingly bizarre attempts to erase gender under the Trans Flag of Tolerance.
The cancellation crusade is not entirely successful, as seen with JK Rowling, who has refused to be silenced by radical trans activists for saying that women are women, and men are not.
But we are not out of social Siberia just yet.
I am grateful to Facebook for reminding me of the ordeal we endured a few short years ago, something that never should have happened.
It is important not to forget those dark times, especially when the people who were at the forefront of the censorship juggernaut now try and deny that these things actually happened.
Ironically, and with a chutzpah that I actually admire for its blatant hypocrisy, they are now the ones claiming cancellation.
For example, Amanda Gorman complained that her book of poetry "The Hill We Climb" was banned from Florida middle schools, when it was still widely available. Then we have the folks who are upset that Florida Gov. Ron DeSantis wanted the AP History classes in Florida to reflect actual history and not the fiction of the 1619 Project.
We also have people in the trans and drag queen communities screaming about not being able to wiggle in front of toddlers in libraries. This is not cancellation.
This is not Boris Pasternak or JK Rowling. These are embarrassing attempts to play the victim from former victimizers.
In the end, the antidote to cancellation is a very fierce and detailed memory. I remember what they tried to do three years ago in Philadelphia.
The censorship and Orwellian assaults on the truth are still vivid in my mind. Even the lost things, the murals erased and the people exiled remain in memory.
As famed poet Percy Bysshe Shelley wrote:
Music, when soft voices die,
Vibrates in the memory—
Odours, when sweet violets sicken,
Live within the sense they quicken.

–
Copyright 2023 Christine Flowers, distributed exclusively by Cagle Cartoons newspaper syndicate.
Christine Flowers is an attorney and a columnist for the Delaware County Daily Times, and can be reached at [email protected].