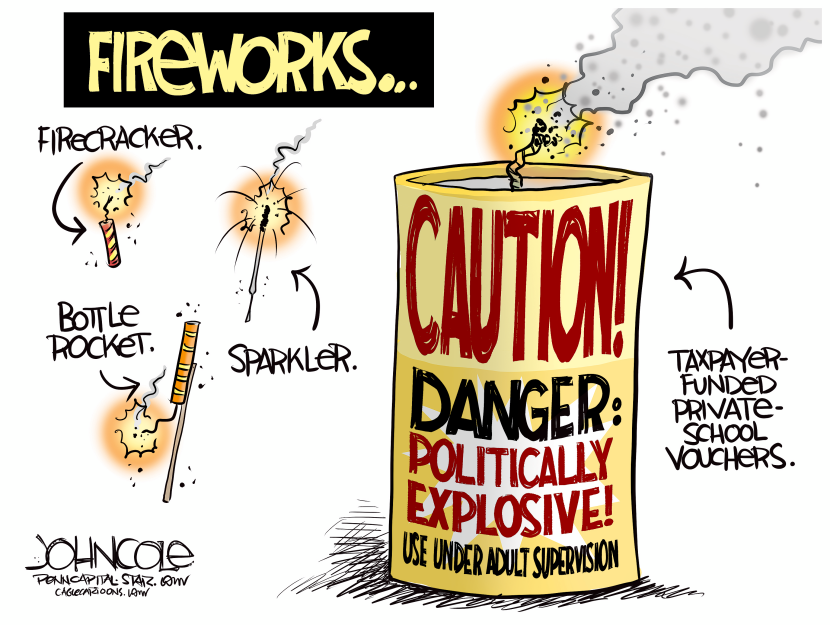 Subscribers Only Content
High resolution image downloads are available to subscribers only.
---
Not a subscriber? Try one of the following options:
OUR SERVICES
PAY-PER-USE LICENSING
FREE TRIAL
Get A Free 30 Day Trial.
No Obligation. No Automatic Rebilling. No Risk.
When Democratic wunderkind Josh Shapiro campaigned to become the next governor of Pennsylvania, he tried to assume a centrist, bipartisan tone on "helping kids." That included supporting Lifeline Scholarships for children in disadvantaged areas, which would allow their parents to put them in better schools with some limited government assistance.
This was a rather courageous and tactically savvy move by the governor, given the stranglehold that the public teachers' unions have on education in Pennsylvania and beyond.
Then he did a complete 180 on school vouchers, stabbed those children in the back, and tried to blame Republicans for the blood flow.
Given the billions of dollars sunk into public schools over the years, and given the mediocre level of "scholars" that are being turned out, what harm is done by giving a small portion of our tax dollars to schools that perform well above average?
Why are we ignoring the fact that most of the kids in need of assistance are minority children, kids with parents who support vouchers and choice?
And why did Josh Shapiro fold?
Of all the answers we're not getting, that one is the easiest to figure out.
The reason the so-called centrist, bipartisan governor decided to betray the most vulnerable schoolchildren is that he did not have the courage or the political conviction to actually do what was right, as opposed to doing what would please his caucus.
Contrary to what even some conservatives were saying during the election season, Josh Shapiro is a political animal, and not an entirely savvy one at that, who places expediency over doing the right thing.
It would have helped thousands upon thousands of Pennsylvania children if he had actually challenged the public school monopolists to demonstrate why they deserved a half billion dollars to essentially maintain a mediocre status quo where high school students are reading at elementary school levels and have more expertise with birth control than with self-control.
It would have been a Kennedyesque profile in courage if he had tried to convince the nihilists in his own party, people like his friend and leader of the Pennsylvania House Democratic Caucus Matt Bradford to release a paltry $100 million to provide a lifeline for struggling children.
But he didn't, because he isn't wired that way.
He has been a political animal since his earliest days at Akiba Hebrew Academy, a private school.
I remember when I was a student at Merion Mercy that a few of the kids on my school bus — the one provided for me with Pennsylvania tax dollars — were dropped off at Akiba.
In those days, there were the naysayers who were resentful that "privileged" kids were getting any public benefits, but there was an overall understanding that the welfare of children is much more important than the posturing of adults who don't like their monopolies diluted.
Now, though, Shapiro has forgotten about that interplay between public and private and believes that there should be a wall erected between the two, even if that leaves struggling children in the breach.
And that toxic philosophy has seeped back down to the school districts, where places like Radnor and Haverford are trying to strip even transportation services from children in private schools.
It's an all-out assault from failing public institutions on those who are trying to do the right thing by children, regardless of political labels.
The advocates for Shapiro, the House Democrats and public school zealots will continue to blather on about how we haven't done enough, how the Commonwealth Court decreed that the funding systems were unfair, that children who choose to seek a decent education elsewhere need to bear the consequences of their choices.
They're basically saying, "Let them eat chalk."
But as someone who taught in private schools for years, at a salary that is less than half of what teachers with my experience would have gotten in a public setting, I know that kids don't care about votes and caucuses and donors and making unions happy.
They only have one brief span of childhood, one fleeting moment in which to obtain that most precious of birthrights: a good education.
I hope they look at Josh Shapiro, and his enablers in Harrisburg and across the country, and realize just why they are on their own.
–
Copyright 2023 Christine Flowers, distributed exclusively by Cagle Cartoons newspaper syndicate.
Christine Flowers is an attorney and a columnist for the Delaware County Daily Times, and can be reached at [email protected].