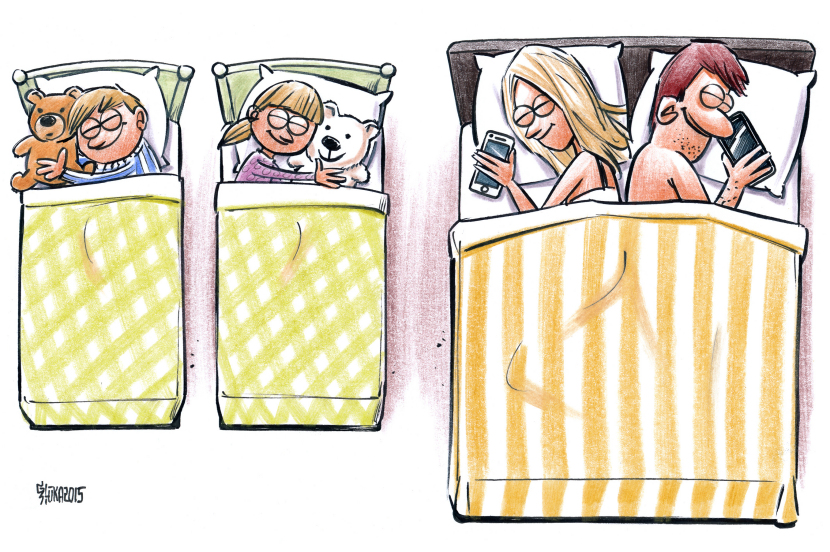 Subscribers Only Content
High resolution image downloads are available to subscribers only.
---
Not a subscriber? Try one of the following options:
OUR SERVICES
PAY-PER-USE LICENSING
FREE TRIAL
Get A Free 30 Day Trial.
No Obligation. No Automatic Rebilling. No Risk.
Tyrades! by Danny Tyree
Folks, "last one in is a rotten egg" applies to more than swimming pools.
If you share sleeping quarters with a spouse or Significant Other, I urge you to expedite the toothbrushing process, throw on your PJs or nightie with breakneck speed and be the first person under the sheet.
Because the first one in bed apparently has dibs on The Paranormal Pillow.
I call it The Paranormal Pillow because it sounds classier than Memory Foam on Steroids. If one partner stays up late doing chores or checking social media, when they finally drag their weary carcass to bed, the pillow magically stimulates the early-to-bed partner to remember all sorts of Questions That They Should Have Thought of Earlier.
"Did you remember to put out the cat? Did you remember to lower the thermostat? Did you remember to plug my phone into the charger? Did you remember to pay the Visa bill before midnight? Did you remember to leave the flag up on the mailbox at our weekend cottage?"
If you don't relish abruptly shifting your sleeping accommodations to the doghouse, you'd darned well better also remember the Alamo, the Maine and Pearl Harbor.
And at least try to remember the kind of September when life was slow and oh, so mellow.
If you are unsure of any of your answers, don't expect to witness a sudden burst of volunteerism. It's up to the late arrival to double-check and triple-check everything. This is the philosophy preached by today's military thinktanks. ("I'm so nice and cozy in this foxhole. Since you're already up, would you be a dear and go scouting for enemy combatants?")
The deluxe model of The Paranormal Pillow is the gift that keeps on giving. The proud owner is suddenly "wired" with all sorts of additional urgent remembrances, none of which are as stimulating as traditional "pillow talk."
("Oh, I forgot to tell you that I ran into one of my old classmates whom you never met. I will describe in detail the photos of all their grandchildren/muscle cars/gastrointestinal abnormalities.")
Alas, The Paranormal Pillow does not work equally well on all portions of the brain. ("Are you sure I snored last night? I don't remember any such thing. Now go get the coffee maker ready for tomorrow and maybe when you get back, we can…ZZZZZZZZ…")
I wish we knew if The Paranormal Pillow could help dementia patients, but research has been thwarted for years. Policymakers with vested interests are terrified of patients having their memories restored. ("Hey, I suddenly remember each and every one of the lying politicians who promised they were going to fix Social Security and Medicare!")
Oh, here's the perfect outside-the-home use of The Paranormal Pillow! We could mandate them for witnesses testifying before congressional committees.
You know, the hacks who always stammer, "I don't recall. Not to my recollection. Doesn't ring a bell" about everything from clandestine meetings to "How did you get here today?"
The Paranormal Pillow would soon have these jokers babbling, "Oh, the bribe? Yeah, Ben Franklin's left eyebrow was slightly frayed on the 17th bill the 5-foot-9 guy with the slight North Dakota accent handed me at 9:14 that evening…."
Not that my musings would put you to sleep, but sweet dreams, everyone.
"Sweet dreams? Since you're still up anyway, could you alphabetize my Patsy Cline collection?"
*Sigh*
–
Copyright 2023 Danny Tyree, distributed by Cagle Cartoons newspaper syndicate.
Danny Tyree welcomes email responses at tyreetyrade[email protected] and visits to his Facebook fan page "Tyree's Tyrades."