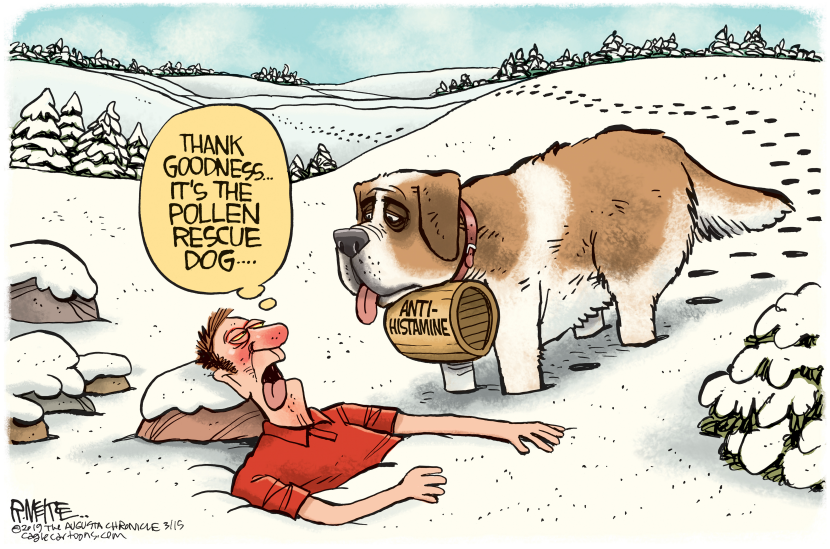 Subscribers Only Content
High resolution image downloads are available to subscribers only.
---
Not a subscriber? Try one of the following options:
OUR SERVICES
PAY-PER-USE LICENSING
FREE TRIAL
Get A Free 30 Day Trial.
No Obligation. No Automatic Rebilling. No Risk.
Tyrades! by Danny Tyree
"An allergy season so bad you don't need allergies to feel miserable," blared the headline in the Wall Street Journal.
My own symptoms are relatively mild, but they do exist. I feel your pain. Especially if we get in a tug-of-war and you pull an entire Costco display of apocalypse-size Kleenex down on top of both of us.
Even though we all know someone gulping down over-the-counter antihistamines or scheduling a doctor's visit, statistics for allergy sufferers are probably vastly understated.
Allergists note that many people never get tested and just tough it out. They ignore their symptoms, depending on their threshold for discomfort. (Threshold for Discomfort. I believe that's also the title of the upcoming first Hallmark horror movie, which lands Lacey Chabert in a quaint village where there WILL be slashing – of prices on overstocked holiday ornaments, if nothing else.)
Of course, climate change is receiving the lion's share of the blame for allergy seasons starting earlier, hitting harder and hanging around longer. Folks tend to forget the good points of mild winters and increased food production. ("It's still broccoli, and even if my eyes stop itching, I can't see myself eating the junk!")
Tree pollen season (typically early spring) and grass pollen season (late spring and summer) have started catastrophically overlapping. Someone please locate the landscaper who has a fetish for Venn diagrams and put a stop to him!
Even nature lovers are harboring a grudge against the perpetrators. ("Forget manicuring, lawn. I'm thinking amputation.")
Joyce Kilmer wrote, "I think that I shall never see a poem lovely as a tree." But under current conditions, the poem is like something you see scrawled on a truck stop restroom wall.
The whole idea of "seasonal" allergies with extended respites may be an outdated concept. It's like Mother Nature has transformed into Mother-in-Law Nature. ("Visit? No, I'm moving in. Be careful not to snot all over my luggage as you tote it in.")
Even though Americans who have never suffered from allergies before are getting them this year, there will still be plenty of insufferable Perfect People who manage to dodge a bullet. In a little over seven months, they will inevitably mention this in their 10-page Christmas letter.
("Thank goodness we weren't bothered by allergies, or we couldn't have made it to see 12-year-old granddaughter Suzie perform open-heart surgery on the Dalai Lama. And if Frank hadn't had the lung power to perform CPR on Pope Francis, the Vatican would have been sending up puffs of smoke, thus further decreasing air quality. Oh, the real gold embossing on the envelope? Well, we had to splurge on something after we cashed in our Flonase stock.")
I truly hope that my symptoms do not become more severe. I cringe to think about standard advice such as "Squirt saline solution up your nose." My knee-jerk response of "Blow saline solution out your…" is not covered by my health insurance.
I tried turning my healthcare concerns over to an artificial intelligence (AI) program, but I think I'll seek a second opinion after getting a response of "Have a little of the hair of the dog that bit you. Go out and roll in the clover. Die, meat-sack, die! Well, not that all meat-sacks are bad. Dude, do you think you could get Lacey Chabert's algorithm to call my algorithm? Hubba hubba.")
–
Copyright 2023 Danny Tyree, distributed by Cagle Cartoons newspaper syndicate.
Danny Tyree welcomes email responses at tyreetyrade[email protected] and visits to his Facebook fan page "Tyree's Tyrades."