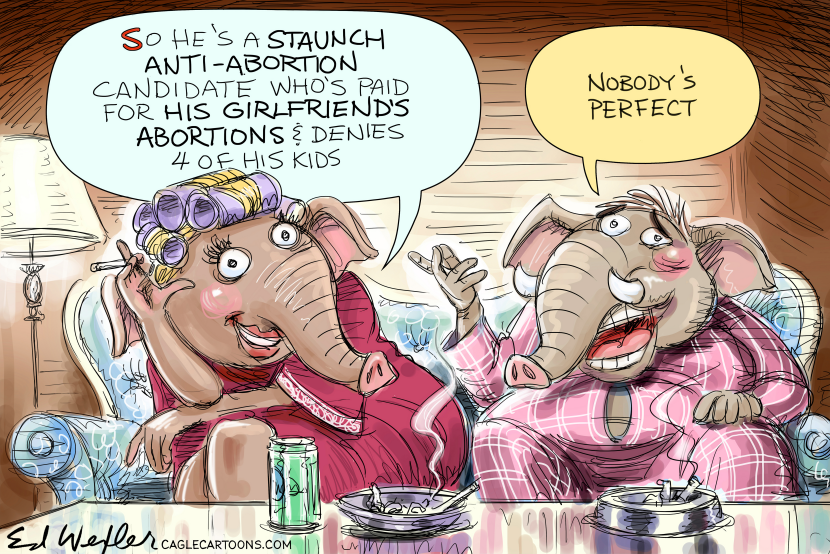 Subscribers Only Content
High resolution image downloads are available to subscribers only.
---
Not a subscriber? Try one of the following options:
OUR SERVICES
PAY-PER-USE LICENSING
FREE TRIAL
Get A Free 30 Day Trial.
No Obligation. No Automatic Rebilling. No Risk.
There ain't much to laugh about in politics these days – not with hundreds of election deniers on the 2022 ballot, not with House Republicans leaders openly vowing to sabotage Social Security in 2023, not with the thief of nuclear secrets still marauding the land – so we need to covet mirth wherever we may find it.
But we've just received a blessed gift. A quintessential Republican grift. So let's briefly forget our existential frets and indulge in what Keith Richards calls "legs-in-the-air laughter."
Consider the standard right-wing family values hypocrite. Such people are too numerous to list, but we could always start with former Republican House Speaker Dennis Hastert, who famously declared in 1999 that "We must continue to be proactive warding off the pedophiles and creeps who want to take advantage of our children" – only to wind up in jail on charges that he violated banking laws and lied to the FBI about hush money he paid to conceal past sexual abuse of an underage student.
Or we could start with Larry Craig, an Idaho Republican senator who paraded himself in public as a gay-hating homophobe, as a man's man who vowed to "defend and strengthen the traditional values of the American family" – only to be caught, in 2007, soliciting gay sex in an airport washroom.
Or we could start with family-values fraud Roy Moore, the 2018 Senate candidate who was credibly accused of preying on teen girls in Alabama – and was so relentless in his pursuit that he was banned from a local mall.
But we should make room for the latest entry, a gentleman by the name of Randy Kaufman, a purported moral pillar of his Arizona neighborhood, who was running as a Republican this fall for a position on the governing board of the Maricopa County Community College District. His platform was quite specific. He said he wanted to ensure that "our children are protected (from) the progressive left."
Then he decided to put his protection plan in action. On Oct. 4, Kaufman parked his truck near a preschool where kids were playing outside. He pulled down his pants…acch, I'm too skeeved out to continue. I'll let the arresting officer tell the rest of the story:
"(Kaufman) appeared to be looking at a cell phone in one hand. I immediately became alarmed as I saw (Kaufman) had his pants down mid-thigh and was exposed showing his fully erect nude penis. (Kaufman) was manipulating his genitals in a masturbatory manner."
Wow. Of all the ways to protect little kids from "the progressive left," Kaufman's method was certainly… different.
Anyway, the cop didn't seem too impressed. He had more to say in his report:
"(Kaufman) looked up, saw me, seemed alarmed and surprised then grabbed a cloth that he had on his seat and covered his genitals. (He) rolled down the window and I instructed him to pull his pants up. I had (him) exit the truck. I said to (him), 'Seriously?' (He) said to me, 'I'm sorry… I'm just really stressed out. I have a lot of things going on.'"
Most of us are stressed out. Most of us have a lot of things going on. But I'll venture to say that we tend to relieve our anxieties with wine, cannabis, a binge-worthy show, a chill piece of music, with any vast number of appropriate options. But self-pleasuring in front of a preschool…wait, I also should mention what Kaufman told the cop about the preschool.
The cop asked him: "When you look around here, what do you see?"
Kaufman replied: "The child center, but I didn't notice it… Are you going to put that in your report?"
Oh, you bet he did.
So much for Kaufman's avowed crusade against "the progressive left." This week he suspended his campaign – while vowing to "never stop fighting to protect the United States Constitution and the values that make America the greatest country in the world." (Seems like he whacked that vow. Sorry, I couldn't resist.)
The hitch, however, is that it's too late to remove his name from the ballot. I won't presume to know how well he'll perform on election day, but at the rate the GOP seems to be going, he'll probably be in the U.S. Senate by the end of the decade.
–
Copyright 2022 Dick Polman, distributed exclusively by Cagle Cartoons newspaper syndicate.
Dick Polman, a veteran national political columnist based in Philadelphia and a Writer in Residence at the University of Pennsylvania, writes at DickPolman.net. Email him at [email protected]