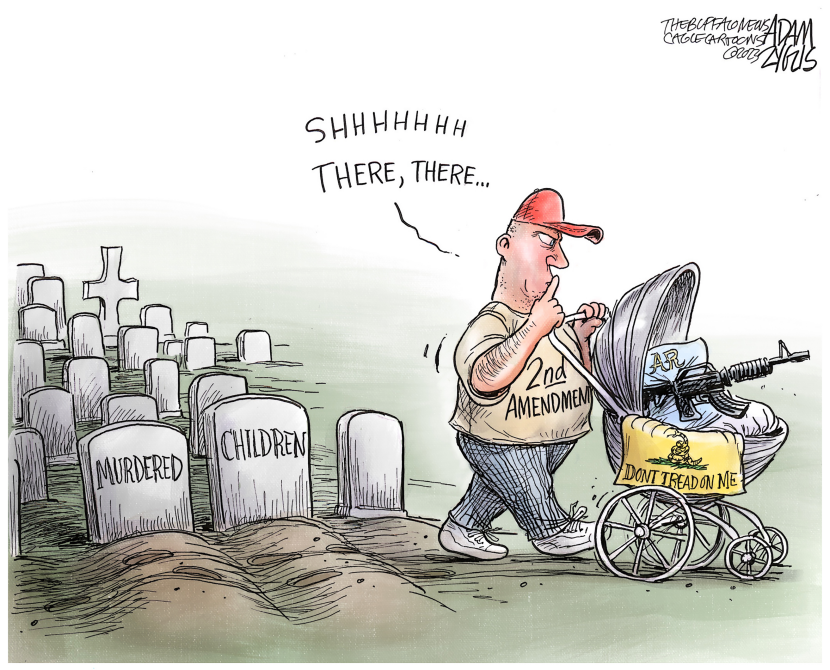 Subscribers Only Content
High resolution image downloads are available to subscribers only.
---
Not a subscriber? Try one of the following options:
OUR SERVICES
PAY-PER-USE LICENSING
FREE TRIAL
Get A Free 30 Day Trial.
No Obligation. No Automatic Rebilling. No Risk.
Put your hands together for gun reform activist Ashbey Beasley, an anguished mom who showed up uninvited on Fox News the other day. She stormed within camera range and raged common sense to the viewers who'd probably tuned in for the usual brain-dead propaganda.
She and her son had survived last summer's massacre in Highland Park, Illinois (you're excused if you can't remember that one; it's impossible to keep track), and here she was, visiting a family member in Nashville, only to learn that three 9-year-olds had been freshly sacrificed on the altar of the Second Amendment. Her cri de coeur was loud and clear: "Gun violence is the number one killer of children and teens, it has overtaken cars" – she's right about that – "How is this still happening? How are our children still dying?"
I can answer that. They are dying, and will continue to die, because America's spineless "leaders" – cowed by the gun lobby, cowed by the voters who are in thrall to mass weaponry – have given up. A nation that refuses to protect its children, refuses to prioritize the safety of its own budding citizens, is a detestably failed nation.
It has been nauseating this week – but no surprise – to watch elected Republicans wave the white flag of surrender. Their message is: It's out of our hands. Basically, their "pro-life" master plan is to use government muscle to ensure that all the unborn are born, so that later they can be mowed down in school by gun freaks flexing their Freedom.
The gun-loving governor of Tennessee, Bill Lee, released a worthless statement: "I understand there is pain, I understand the desperation to have answers, to place blame," but, naturally, "this is not the time." But if not now, when? In 2019 and 2021, Lee signed bills loosening Tennessee gun laws, allowing adults to carry in public without a permit, background check or training. Tennessee doesn't even have a "red flag" law that would bar gun purchases to people with criminal records or mental health problems. The Nashville shooter, who, according to police, was being treated for an "emotional disorder," legally purchased seven firearms at five stores.
How about some help on federal level? Nah. One of the worthless Tennessee congressmen, Tim Burchett, said simply: "We're not gonna fix it." Colleague Andy Ogles, whose district includes Nashville, had nothing to say – except to defend his family's recent Christmas card, which featured the Ogles (kids included) brandishing semi-automatic weapons. He was eloquent about that: "Why would I regret a photograph with my family exercising my rights to bear arms?"
House Speaker Kevin McCarthy, when asked about the Nashville shootings, said: "Just let me warn you, I'm not going to answer any questions. We can talk about new movies, we can talk about your lives, we can talk about what you're doing for Easter, we can talk about anything else." Steve Scalise, the gun financiers' favorite congressman, said that the only thing worth doing is to "keep those families in our prayers."
On the Senate side, Republican whip John Thune said that any and all talk about actually doing something was "premature," the magic word invoked after every massacre prior to the next one. Colleague John Cornyn, the gun financiers' second favorite senator, chimed in: "I would say we've gone about as far as we can go."
Actually, we are so awash in weaponry – thanks to our frontier ethos, thanks to the Second Amendment extremists – that it's easy to understand why pols like Cornyn throw up their hands. At this point, more than 20 million AR-15 style assault weapons are reportedly in circulation (thanks to Congress' 2004 repeal of the federal assault weapons ban), and the latest international gun survey estimated that, in 2018, there were 120 civilian-owned guns for every 100 American residents. That was more than double the ratio of the number-two nation on the list, Yemen.
A Washington Post analysis concludes: "If significantly reducing gun deaths necessarily means significantly reducing firearm ownership, you can see the problem. It's hard to think of a way that ownership could be reduced significantly, even if the political will to do so suddenly materialized."
Our gun-loving pols have gifted themselves a license to surrender. And we members of the anguished American majority should join Ashbey Beasley in lamenting our dearth of political will:
"We can't accept events like this as routine. Are we really prepared to say that we're powerless in the face of such carnage, that the politics are too hard? Are we prepared to say that such violence visited on our children year after year after year is somehow the price of our freedom?"
So said President Obama, in the aftermath of the Sandy Hook massacre. More than 10 years ago.
–
Copyright 2023 Dick Polman, distributed exclusively by Cagle Cartoons newspaper syndicate.
Dick Polman, a veteran national political columnist based in Philadelphia and a Writer in Residence at the University of Pennsylvania, writes at DickPolman.net. Email him at [email protected]