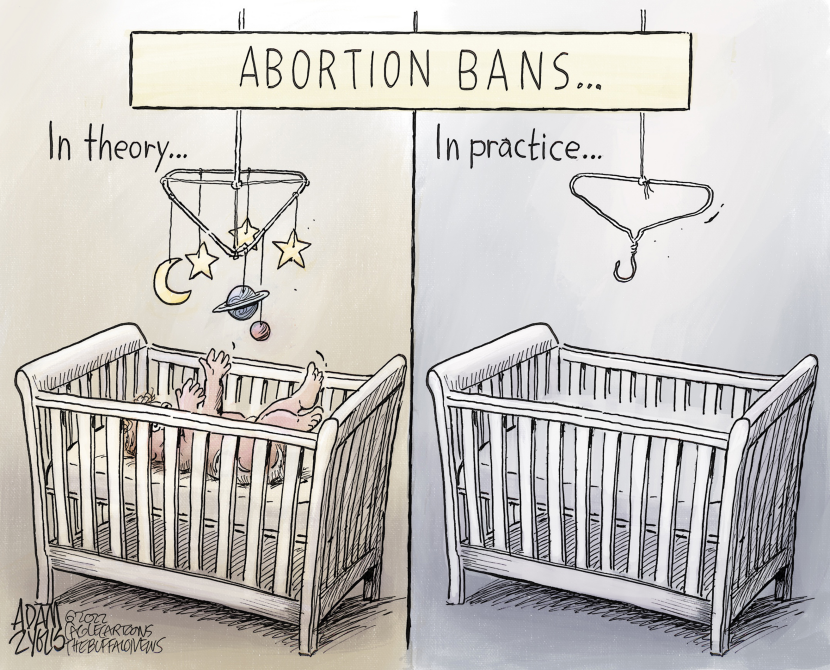 Subscribers Only Content
High resolution image downloads are available to subscribers only.
---
Not a subscriber? Try one of the following options:
OUR SERVICES
PAY-PER-USE LICENSING
FREE TRIAL
Get A Free 30 Day Trial.
No Obligation. No Automatic Rebilling. No Risk.
One of these days – but maybe never – Republicans might wake up and realize that their forced-birth crusade, their determination to control women's bodies via government fiat, is backfiring badly at the ballot box.
They seem incapable of learning the basic lesson that it's nuts to alienate the millions of Americans who disagree with the theocratic banning of abortion.
The thick-headed GOP was dealt yet another humiliating blow this week, when voters in swing-state Wisconsin gave progressives a 4-3 working majority on the state Supreme Court for the first time in 15 years.
In the most expensive judicial race in American history, Janet Protasiewicz, a liberal county judge who campaigned openly for abortion rights, decimated Daniel Kelly, the anti-abortion MAGA candidate, by 11 percentage points. Wisconsin is a fiercely competitive state where elections are typically decided by a point or two; nobody wins a statewide race by 11. Something special must've happened.
Something did.
Progressive voters – especially young people, especially young female people – surged to the polls to voice their support for legal abortion. Judicial elections in Wisconsin typically draw less than 30 percent of the electorate; this one drew 40 percent. It's easy to see why, with the stakes so high.
The U.S. Supreme Court's erasure of Roe v. Wade basically gave Wisconsin permission to outlaw virtually all abortions – thanks to a state ban that has been on the books since 1849. But now, with Protasiewicz on the bench, the new abortion-rights majority is all but certain to nuke that archaic statute.
The landslide progressive vote in Wisconsin has other benefits, too. The new high court majority won't tolerate any MAGA efforts to screw with the 2024 presidential election in that crucial state. The last time around, the court came within one vote of throwing out Joe Biden's fraud-free Wisconsin win.
Charlie Sykes, a former conservative Wisconsin radio host, said recently that a progressive high court "changes the rules and dynamics of Wisconsin politics pretty fundamentally." And MAGA plotter Ali Alexander gave up the game the other night when he tweeted, "We just lost the Wisconsin Supreme Court. I do not see a path to 270 (electoral votes) in 2024."
But back to the abortion issue. Republicans don't seem to be getting the message that fealty to their evangelical forced-birth base is costing them big time with the American mainstream. To paraphrase Yogi Berra, the Wisconsin election is deja vu all over again.
Last November in Michigan, Democratic Gov. Gretchen Whitmer rode the abortion issue – with a pro-choice referendum on the ballot – to a decisive reelection win, and her party captured both chambers of the state legislature for the first time in 40 years. Abortion played a crucial role in the Pennsylvania Senate election, where John Fetterman reaped benefits from Mehmet Oz's brain-dead remark that "local political leaders" should have a say in women's decisions. Indeed, the abortion issue stoked midterm Democratic turnout nationwide – it ranked high in voters' concerns, second only to inflation – thus limiting the GOP's new House majority to single digits, and enabling Democrats to hold the Senate.
Meanwhile, last summer in red Kansas, voters turned out en masse, in a statewide referendum, to protect women's right to choose – by a margin of 17 points. In November, voters in red Kentucky rejected extremist language that would've been added to the state constitution. Granted, neither of those states will go blue in the 2024 presidential election, but it's clear that if there's grassroots support for abortion rights in red America, imagine how Democrats might be able to leverage that issue in the handful of swing states.
And we now have some evidence that the GOP is waking up.
"This is not an issue that's going away for our party in a post-Dobbs world, and we can't put our head in the sand and think it's going to heading into 2024," Republican National Committee chairwoman Ronna McDaniel said on Fox News about the role of abortion in the Wisconsin race.
McDaniel he said conservatives need to do a better job of messaging on abortion. Good luck with that.
I'll finish with one last observation about Wisconsin. And Michigan. And Kansas. And the midterms:
People who still think voting doesn't matter should go soak their heads.
–
Copyright 2023 Dick Polman, distributed exclusively by Cagle Cartoons newspaper syndicate.
Dick Polman, a veteran national political columnist based in Philadelphia and a Writer in Residence at the University of Pennsylvania, writes at DickPolman.net. Email him at [email protected]