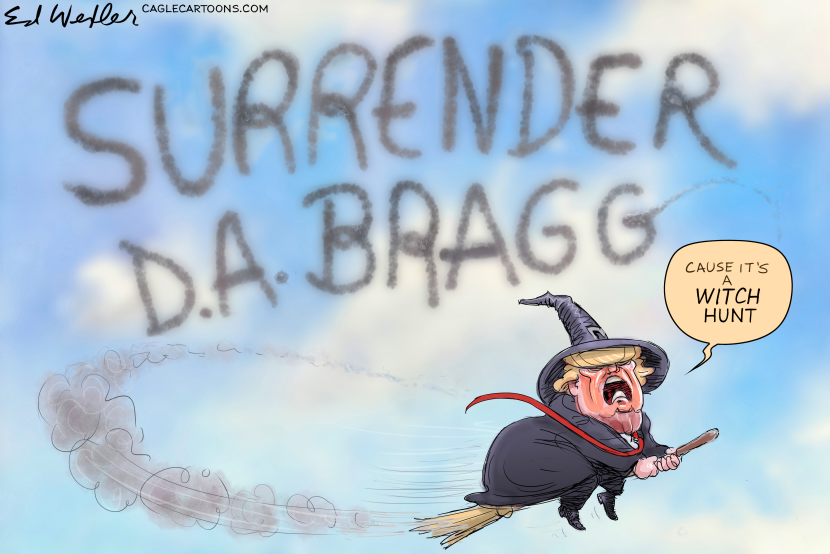 Subscribers Only Content
High resolution image downloads are available to subscribers only.
---
Not a subscriber? Try one of the following options:
OUR SERVICES
PAY-PER-USE LICENSING
FREE TRIAL
Get A Free 30 Day Trial.
No Obligation. No Automatic Rebilling. No Risk.
Over the past few months, Donald Trump has returned to his sporadic and sinister practice of stoking white resentment and supremacist sentiment.
Recently, he has taken aim at Black prosecutors. His most recent target has been Manhattan District Attorney Alvin Bragg, who is weighing an indictment against Trump over an alleged hush-money payment to porn star Stormy Daniels during the 2016 election.
Last week, Trump was soundly and roundly condemned for a number of inflammatory posts on his Truth Social website denounced as blatantly and offensively racist toward Bragg. For instance, Trump called Bragg, the first Black district attorney in Manhattan, a "SOROS BACKED ANIMAL," and referred to the legal system as "THE GESTAPO" Trump followed that scurrilous remark by posting a photo of himself wielding a baseball bat over Bragg's head.
"No, Mr. Trump. You may disagree with the legal proceedings against you but calling it the "Gestapo…but worse" is ugly and wrong. It's ahistorical, offensive and an affront to the actual victims of the Gestapo's terror tactics," wrote Jonathan Greenblatt, the president of the Anti-Defamation League. "Moreover, referring to a Black prosecutor as an animal is racist and gross. It's the kind of dog whistle that we've come to expect from Trump. It might appeal to white supremacists, but it should be rejected by all decent Americans."
Fani Willis is another Black lawmaker who has been a target of Trump. The Fulton County district attorney has been actively involved in an effort to prohibit state legislation that would curtail the power of decision makers like herself. More notably, Willis is considering charging the former commander-in-chief with racketeering and conspiracy charges related to Trump's involvement in placing political pressure on Georgia lawmakers after his defeat in 2020.
There is also New York Attorney General Letitia James, who Trump has aggressively attacked after she announced a $250 million lawsuit against the former president for fraud. In typical Trump theatrical fashion, the former president baselessly denounced James as a "racist" who was responsible for the "greatest witch hunt in history."
As a historian, I argue that the Salem Witch Trials would be a more apt example.
To those of us familiar with historical tropes, by referring to Bragg as "an animal," it is evident Trump is odiously implying the decorated prosecutor is not quite fully human and is being manipulated by his supposed "Jewish master," George Soros. He portrays Willis as an "uppity" Black woman who has the audacity to challenge a powerful  and privilege white man, while he paints James as an incompetent Black person who genuinely hates white people.
It is the height of nonsensical foolishness.
It is not lost on some of us that all the attorneys he has targeted for harassment are Black, and he's accusing each of the of various types of racial animus toward him.
Can Black people be individually racist? Yes. Can Black people practice institutional racism? No. Black people do not harbor the political, social or economic power to engineer the mechanisms that the entity of racism routinely deploys upon those who suffer under its rapacious spirit.
So it's pretty clear it's Trump, and not those whom he's accusing, who is playing the so-called "race card."
–
Copyright 2023 Elwood Watson, distributed by Cagle Cartoons newspaper syndicate
Elwood Watson is a professor of history, Black studies, and gender and sexuality studies at East Tennessee State University. He is also an author and public speaker.