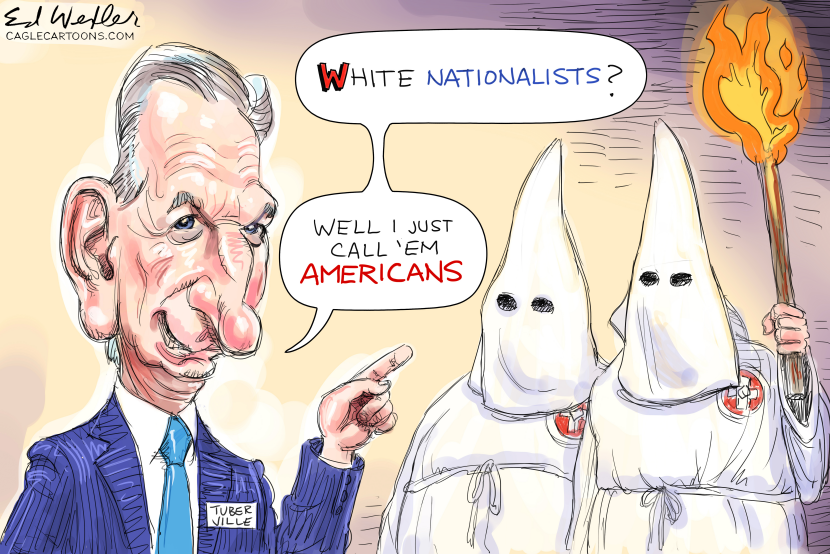 Subscribers Only Content
High resolution image downloads are available to subscribers only.
---
Not a subscriber? Try one of the following options:
OUR SERVICES
PAY-PER-USE LICENSING
FREE TRIAL
Get A Free 30 Day Trial.
No Obligation. No Automatic Rebilling. No Risk.
Despite the Republican Party's routine claims it wants to increase its appeal with non-white voters, it often seems to find a way to impede any progress made.
Such supposed attempts encountered a series of roadblocks last week when two GOP lawmakers made racially offensive comments, resulting in fierce condemnation from civil rights groups and further weakening the party's message that it is a large and politically diverse tent.
Alabama Sen. Tommy Tuberville and Arizona Rep. Eli Crane made the racially inflammatory statements, prompting rebukes from Republican leaders and warnings from some mainstream GOP members that the party's efforts to attract more non-white voters just became more difficult.
"It makes it very tough," South Carolina Rep. Nancy Mace said. "We want to be a big tent; we want to have diversity in our party; and it makes it difficult to do that when those types of comments are made."
Tuberville ignited a firestorm of controversy when he told CNN that white nationalists — a group defined as "militant white people who espouse white supremacy … and advocate enforced racial segregation," by Merriam-Webster — are not inherently racist. "That's your opinion," he told host Kaitlan Collins, adding that a white nationalist "is an American."
Tuberville's foolish remarks were widely derided by senators in both parties, including Republican Senate Minority Leader Mitch McConnell, who declared white supremacy to be "simply unacceptable." Amid the outcry, Tuberville changed his tune, stating that white nationalists "are racists."
Meanwhile, in the other chamber of Congress, Crane created his own uproar when he referred to Black Americans as "colored people" while promoting an "anti-woke" proposal on the House floor.
The remark came during the debate on Crane's proposed Protection of Ideological Freedom amendment to the Pentagon budget. The amendment, which subsequently passed, "prohibits DOD from considering race, gender, religion or political affiliations or any other DEI ideological concepts as the sole basis for recruitment, training, education, promotion or retention decisions."
While defending his amendment, Crane, a veteran, said the military "was never intended to be, you know, inclusive. Its strength is not its diversity, its strength is its standards. Diversity can be a great thing but that should not be our focus."
The comments prompted Ohio Rep. Joyce Beatty, former chair of the Congressional Black Caucus, to ask for the words to be struck down from the record. "I find it offensive, and very inappropriate," Beaty said. "I am asking for unanimous consent to take down the words of referring to me or any of my colleagues as 'colored people.'"
"Wow. Republicans are just openly calling my colleagues 'colored people' on the House Floor," commented Massachusetts Rep. Jim McGovern. "They're bringing amendments to the floor to stop bases named after Confederate traitors from getting new names. The GOP is not even hiding the racism anymore."
Crane, a freshman Republican from Oro Valley, Arizona, said "he misspoke." Yeah, and water is not wet,
"He didn't misspeak," Beatty said in an interview with CBS News. "He said clearly what, in my opinion, he intended to."
Beatty is wholly correct in her assertion. A person espousing such an antiquated, offensive, and regressive term in 2023 does not do so by accident.
The truth is the acrimonious and incendiary remarks from Tuberville, Crane, and others of their ilk are indicative of a larger — and highly toxic — GOP strategy of employing racially foul rhetoric to energize and animate conservative base voters, who tend to be white.
Congresspeople harboring white supremacist views are hardly a new phenomenon. Congress has always had its share of assorted wing nuts and racial buffoons, so to speak, including those on the politically far right. However, it seems that over the past few years there have been disproportionately more of them — and they all seem to be aligned with the Republican Party.
During the past several years, we have witnessed the MAGA hell raisers in the House of Representatives and their frequent, brazenly shameless, racially charged escapades. Like their forebears of yesteryear, they know what they are doing. More troubling, many take pleasure in doing so. It is a sad commentary to be sure.
–
Copyright 2023 Elwood Watson, distributed by Cagle Cartoons newspaper syndicate
Elwood Watson is a professor of history, Black studies, and gender and sexuality studies at East Tennessee State University. He is also an author and public speaker.