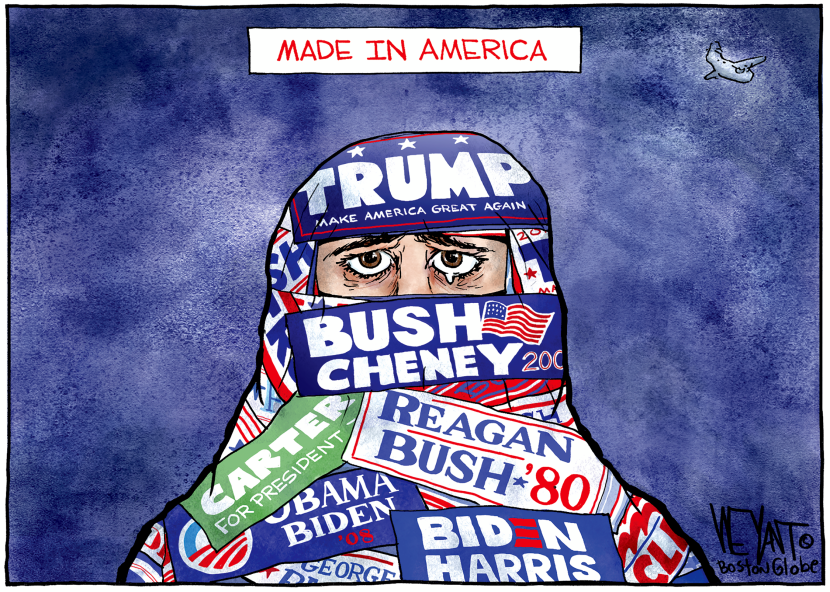 Subscribers Only Content
High resolution image downloads are available to subscribers only.
---
Not a subscriber? Try one of the following options:
OUR SERVICES
PAY-PER-USE LICENSING
FREE TRIAL
Get A Free 30 Day Trial.
No Obligation. No Automatic Rebilling. No Risk.
No sooner had the Taliban taken control of Kabul than the establishment demanded that thousands of Afghans be given immediate U.S. resettlement privileges.
Allegedly, and likely at least partially accurate, some Afghans are friendly to the U.S. government, and worked with American military. Now, so goes the standard patter, with our allies' lives reportedly endangered, the Biden administration has a moral duty to invite them to America to find safe haven.
In a bitter irony, the most passionate cry to immediately resettle Afghans came from former President George W. Bush whose fallacious "weapons of mass destruction" claim first drew the U.S. military into a 20-year long Middle East quagmire. Bush, a devoted immigration expansionist, urged Biden to "cut the red tape" to expedite Afghans' safe and secure exit out of the now Taliban-controlled country.
As the old English proverb goes, and as history has proven, "There's many a slip 'twixt the cup and the lip." The first hurdle in a resettlement plan is President Biden's demonstrated inability to effectively manage any immigration-related issue.
The southern U.S. Border, where last month a 21-year high of 210,000 aliens crossed, is the most shocking example. But other instances include Biden's unconstitutional refusal to enforce existing immigration law, his proposed 96 percent budget reduction in border security assets and his gutting of Immigration and Customs Enforcement, the agency that protects the interior. Given Biden's dismal immigration track record, only the most naïve could assume that his State or Homeland Security Departments could successfully vet tens of thousands of Afghans.
To be clear, fair-minded Americans want to help allies who have supported us in the extended Afghan War. But Americans don't want the Afghan Special Immigration Visa (SIV) program to devolve into a similar situation to that of the fraud-ridden Iraqi SIV program. In June, Reuters reported that 4,000 Iraqis are suspected of filing fraudulent resettlement applications. The State Department is re-examining 40,000 cases that involve more than 104,000 people, 95 percent of them still in Iraq, and has frozen those applications until further clarification. More than 500 already-admitted Iraqi refugees have been implicated in the fraud and could be deported or stripped of their U.S. citizenship.
Despite documented fraud in the Iraqi SIV program, Biden initiated a similar program for Afghanistan. The Department of Defense reportedly will, post-Kabul, place 30,000 Afghan refugees in Wisconsin's Ft. McCoy and Texas' Ft. Bliss. Assistant to the Secretary of Defense for Public Affairs John Kirby announced that, "We want to have the capacity to get up to several thousand immediately, and want to be prepared for the potential of tens of thousands." Kirby's inevitable undertaking will cost American taxpayers tens of billions of dollars.
The border crisis is expected to result this year in 2 million aliens, unvetted and some COVID-19 positive, allowed into the country. On August 17, the Department of Homeland Security unveiled a new "Case Management Pilot Program" to pay cities, counties and nongovernmental organizations to offer "cultural orientation," medical screening, mental health services, legal orientation programs and other assistance for illegal immigrants who have been caught and released. U.S. taxpayers will fully fund the administration's program, a version of which the Trump administration canceled because of cost inefficiency.
The 2 million-plus border surge, added to the as-yet-undetermined tens of thousands of Afghan refugees that will be resettled, will ensure that the nation's transformation will continue unabated. Census Bureau data showed that immigration, births to immigrants, the opioid epidemic and lower-than-anticipated birthrates among millennials after the Great Recession have contributed to a more diverse America.
The border fiasco and the Afghanistan mess are the direct consequences of wholly misguided, power-crazed elitists and inept military leadership. But, as always, Americans pay the financial tab and must adapt to whatever cultural changes and fallout that accompany the irresponsible politics that Washington, to citizens' detriment, insists on forcing upon them.
–
Copyright 2021 Joe Guzzardi, distributed by Cagle Cartoons newspaper syndicate.
Joe Guzzardi is a Society for American Baseball Research and Internet Baseball Writers' Association member. Contact him at [email protected].