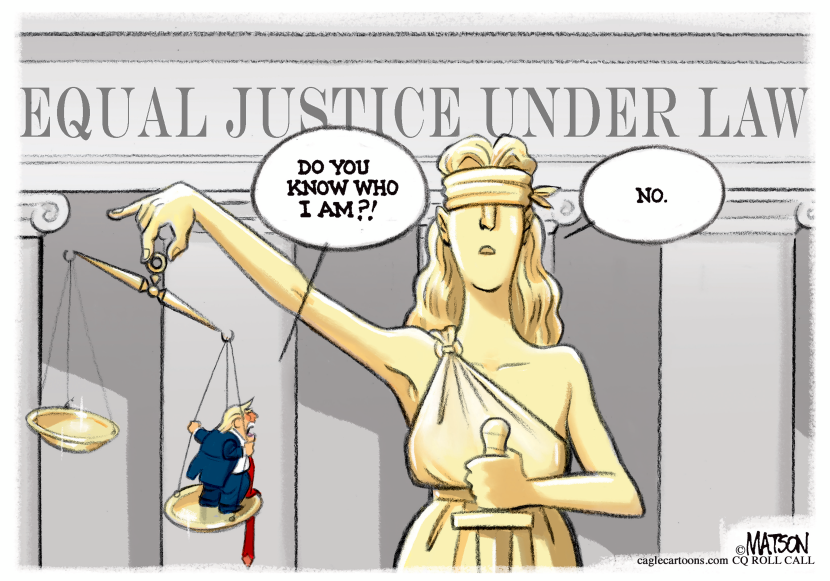 Subscribers Only Content
High resolution image downloads are available to subscribers only.
---
Not a subscriber? Try one of the following options:
OUR SERVICES
PAY-PER-USE LICENSING
FREE TRIAL
Get A Free 30 Day Trial.
No Obligation. No Automatic Rebilling. No Risk.
President Trump's formal accusation, and whatever the fallout from it may be, must not distract from the ongoing, White House-sanctioned open border catastrophe.
Down on the Southwest border, March marked the 26th consecutive month since President Biden's inauguration that bedlam reigned. Up at the Northern border, migrant activity is on the rise. And back in Washington, D.C., Congress held border-related hearings that were acrimonious, but ultimately, unproductive.
March's migrant apprehensions increased 25 percent to 161,000, up from February's 129,000. January also saw fewer than 129,000 apprehensions. The short-term, two-month decrease was not what it seemed, however, as the lower totals were the result of a questionable (if not illegal) program that allows 30,000 Haitian, Venezuelan, Cuban and Nicaraguan migrants monthly to apply from their home countries. To avert the bad optics that thousands of gathered migrants crowding at the border presented to the public, the Biden administration took advantage of an app from U.S. Customs and Border Protection to process applications from abroad.
While the border surge has been a constant, many changes over the last 100 weeks have deepened the crisis. Chinese illegal immigrants are crossing into the U.S. in record numbers now. Customs and Border Protection reported that fewer than 2,000 Chinese nationals crossed the border in FY 2022, but federal data showed the first few months of FY 2023 have seen more than twice that amount – 4,300 encounters.
The doubling of encounters hasn't gotten the White House's attention, neither did a Chinese spy balloon that gathered sensitive intelligence nor the massive increase in the Chinese acquisition of U.S. land.
But Oklahoma Sen. James Langford has introduced a bill, the Security and Oversight of International Landholdings Act, to limit foreign entities from gobbling up prime U.S. agricultural land. Langford said that more than a million acres of Oklahoma farmland are owned by foreign nations, including China, and the land is used for farming illegal drugs.
"Just in the last year, China has doubled the number of acres that it has in the U.S.," said Lankford, adding, "They're buying up hundreds of thousands of acres across the country, and they're moving criminal operations into the country."
Migrants, mostly from Mexico, are also using Canada to travel south, into the U.S. Mexican consular officials said that to avoid the crowded Southern border, its nationals often fly from Mexico to Canada, and then walk south to seek asylum in the U.S. Chief Patrol Agent Robert Garcia, who leads the sector responsible for parts of northern New York, Vermont and New Hampshire, said that in one five-month period his agents apprehended more people crossing into the U.S. from Canada than in the last three fiscal years combined.
In an attempt to create order out of chaos, the Senate Judiciary Committee held a March 28 hearing with Homeland Security Secretary Alejandro Mayorkas its focus. The hearing produced the predictable hostile exchanges. Sen. Ted Crux asked pointed yes or no questions about the open border's consequences as measured by migrant deaths and threats to domestic public safety; Mayorkas refused to answer. Cruz exposed one little-known fact: migrants wear color-coded wristbands that correspond to the amount of money owed to the cartels who trafficked them. Mayorkas claimed to have no knowledge of the wristbands.
Cruz, hoping to provide deterrents, introduced the WALL Act to fully fund the southern border wall, and the EL CHAPO Act, which would use money forfeited to the U.S. government as a result of the criminal prosecution of Mexican drug lord "El Chapo" and other drug kingpins.
Unlike the drama that surrounds President Trump's trials and tribulations, open borders and illegal immigration affect every aspect of Americans' lives. A recent analysis found that at the start of 2023, illegal immigration's net cost to taxpayers at the federal, state and local levels is at least $150.7 billion, money that could otherwise be spent on salaries for police officers and teachers, or badly needed infrastructure repairs.
Given his choice between encouraging migration or promoting safer cities, more well-educated children and safer roads, Biden has, to the disappointment and detriment of millions of Americans citizens, consistently favored funding illegal immigration.
–
Copyright 2023 Joe Guzzardi, distributed by Cagle Cartoons newspaper syndicate.
Joe Guzzardi is a Progressives for Immigration Reform analyst who has written about immigration for more than 30 years. Contact him at [email protected].