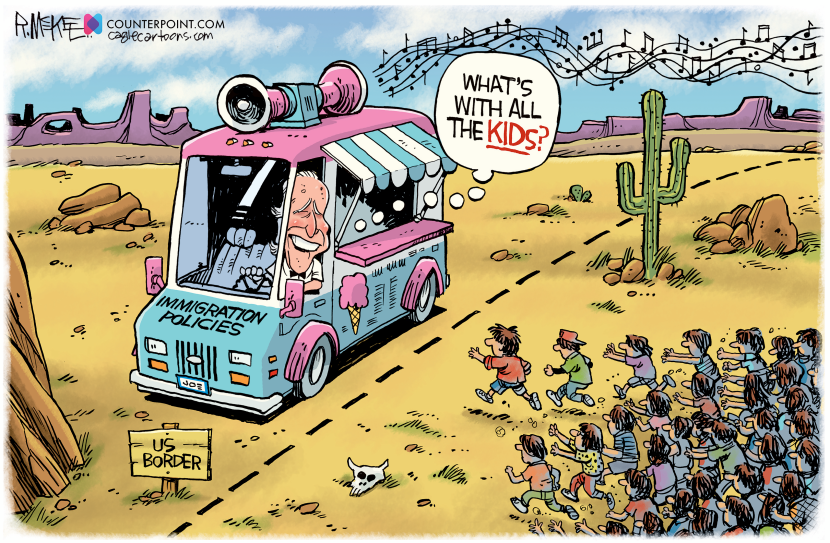 Subscribers Only Content
High resolution image downloads are available to subscribers only.
---
Not a subscriber? Try one of the following options:
OUR SERVICES
PAY-PER-USE LICENSING
FREE TRIAL
Get A Free 30 Day Trial.
No Obligation. No Automatic Rebilling. No Risk.
Even though the nation is divided about immigration and its consequences, on one point, unanimity must be reached.
Immigration, whether legal or illegal, cannot be a vehicle for child labor. And yet, the Department of Labor has uncovered several incidents that involve under-age migrants working in slave labor-like conditions.
In a series of stories, NBC News provided the horrific details. PSSI, a company contracted to work at slaughterhouses and meatpacking facilities throughout the county, allegedly employed at least 31 kids – one as young as 13 – to work overnight cleaning shifts at three facilities in Nebraska and Minnesota, a Fair Labor Standards Act violation. Additional evidence indicated that the company may also have employed more under-age children in similar perilous conditions at 400 other sites nationwide. Identity theft is rampant and a major facilitator in underage migrant employment.
PSSI is a huge company that employs about 17,000 and has contracts with hundreds of meatpacking facilities. Toiling at PSSI wasn't an after-school job at the soda parlor. During the graveyard shift and across three slaughter houses, when they should have been home in bed, minors literally slaved away, mopping up bloody floors.
Interviews with the minors, in their native Spanish language, revealed that several children began their slaughterhouse shifts at 11 p.m. and worked until dawn, some for six or seven days a week, and often for periods of up to 15 months. At least three victims suffered chemical burns.
The NBC News story skirted the central factor that abets minor children's criminal employment – President Biden and Department of Homeland Security Secretary Alejandro Mayorkas' open border. Don't be misled. The media's deceptive language about "unaccompanied minors" is intended to deflect the truth – the children are more accurately described as the victims of child smuggling rings and are tied into the Biden administration's open borders policy. As the minors mature into adulthood, they become embedded in the permanent labor force.
To most of them, any job is a good job. They need incomes to send remittances back home and to pay off their smuggling fees.
U.S. Customs and Border Protection statistics show that after President Biden took office in January 2021, he acted immediately to eliminate effective policies, including categorically exempting unaccompanied minors from Title 42. As a result,  encounters skyrocketed. Between 2020 and 2021, total unaccompanied minor encounters at the Southwest border increased a staggering 342 percent, from 33,239 to 146,913. Those encounters increased to 152,057 in 2022 and are on pace to be at a similar level in 2023.
At a recent Senate hearing, Secretary Mayorkas couldn't explain the child exploitation surge under his watch, a fact that the New York Times described as "ignored or missed." Multiple veteran government staffers and outside contractors told the Health and Human Services Department, including in reports which reached Secretary Xavier Becerra, that children could be at risk. Critics had previously brought to Mayorkas' attention that the DHS Office of Refugee Resettlement routinely releases minors into the custody of unvetted families, many of whom are illegally present, and likely also illegally employed.
The Labor Department also issued news releases that noted an increase in child labor. Senior White House aides were shown proof of exploitation, like migrants working with heavy industrial equipment and caustic chemicals. The net result of multiple efforts to shine light on booming child exploitation: nothing.
Multiple felonies are committed on every step of the journey from the border to the slaughterhouse. Corrupt government and private sector employers hold the upper hand. Fines are meaningless. Hard jail time might make a difference. But if Congress can't pass mandatory E-Verify, it's unlikely to put its weight behind throwing the donor class behind bars.
–
Copyright 2023 Joe Guzzardi, distributed by Cagle Cartoons newspaper syndicate.
Joe Guzzardi is a Project for Immigration Reform analyst who has written about immigration for more than 30 years. Contact him at [email protected].