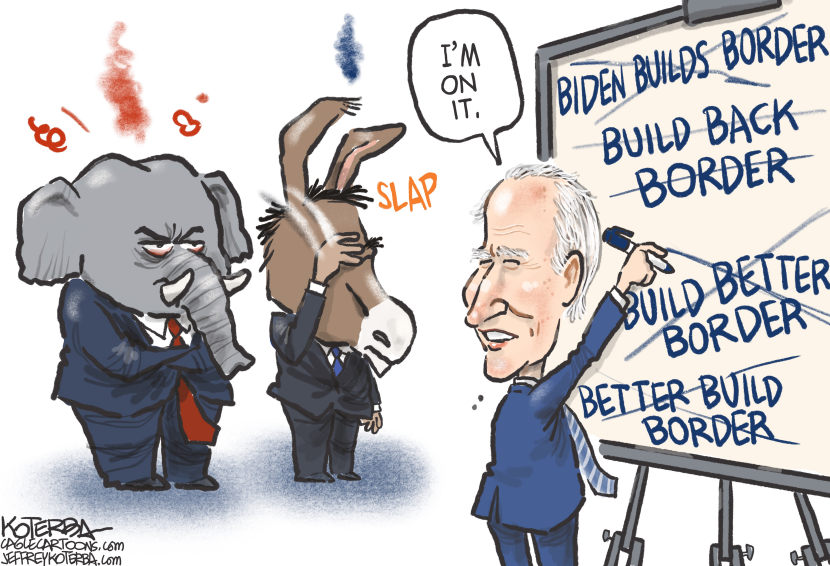 Subscribers Only Content
High resolution image downloads are available to subscribers only.
---
Not a subscriber? Try one of the following options:
OUR SERVICES
PAY-PER-USE LICENSING
FREE TRIAL
Get A Free 30 Day Trial.
No Obligation. No Automatic Rebilling. No Risk.
Title 42 has  ended, and the "Great Reset" is gathering a full head of steam.
In 2020, the World Economic Forum proposed the Great Reset and drafted its mission statement, which included these words: "…Great Reset initiative has a set of dimensions to build a new social contract that honors the dignity of every human being."
While the mission conveys compassion, the sub rosa translation is: Green light the free flow of cheap labor.
Signing on immediately were corporate globalists like Amazon, Google, Huawei Technologies, Saudi Aramco and Volkswagen. President Joe Biden was all-in, too, and eager to help out his cheap labor-addicted supporters. The easiest and most effective way for Biden to get on board was to throw open the Southwest border which he did on his first day in office.
The impact of the open border is apparent, and troubling. In sanctuary city New York, which has received more than 60,000 aliens this year, including 4,200 last week, Mayor Eric Adams is busy pushing some of his new arrivals off to suburban Newburgh and Rockland counties, as well as Orangetown, which sought injunctions to prevent the migrants' transfer. Adams promised that his city would fully fund – with taxpayer money – hotel housing for up to four months, a good trick since the city faces a $10 billion deficit by 2026, and realistically doesn't have a penny to spare.
Anticipating thousands more migrants each day, Adams is considering alternative housing outside the inner city such as Kennedy International Airport hangers, abandoned hospitals and, potentially, tent facilities in Central Park, Brooklyn's Prospect Park, Queens' Flushing Meadows-Corona Park, the New York Mets Citi Field parking lots, Aqueduct Racetrack, Coney Island and Orchard Beach.
Sunday strolls through the park, an afternoon at the track or the beach, and the evening ball game would immediately become less viable for tourists and residents, and reduce the tax revenue that Adams so desperately needs. New York City has spent more than $1 billion in accommodating migrants. The full-fledged commitment of Adams and the Biden administration to admitting and housing illegal aliens, with no end in sight, is immeasurable.
The unthinkable: 20 homeless veterans were evicted from Orange County hotels to make way for a group of unvetted migrants, a new low in the corrupt migrant agenda.
Adams and other under-siege mayors like Washington, D.C.'s Muriel Bowser, El Paso's Oscar Leeser, Arizona's Katie Hobbs and Chicago's Lori Lightfoot, while still in office, declared emergency conditions, begged for more federal funding and decried Texas Gov. Greg Abbott, Florida Gov. Ron DeSantis and Arizona Gov. Katie Hobbs for engaging in what they labeled inhumane political stunts.
The outrage should be directed at Biden, border czar Vice President Kamala Harris and Department of Homeland Security Secretary Alejandro Mayorkas for encouraging the unsustainable open border policy of admitting, and then transporting, aliens with taxpayers funds into the U.S. interior.
To avoid the bad optics of overcrowded migrant facilities and aliens sleeping on city streets, Biden authorized releasing them into the interior without a notice to appear in immigration court. But District Judge T. Kent Wetherell II issued a two-week temporary restraining order to block Biden's mandate that took effect at 11:59 p.m. on May 11, a date which corresponded with Title 42's expiration. Wetherell said that the border crisis is "largely one of [the administration's] own making through the adoption of an implementation of policies that have encouraged the so-called 'irregular migration' that has become fairly regular over the past two years."
Score a big win for the cheap labor lobby – Amazon, Google, etc. – that signed on to the Great Reset's mission statement. Millions of paroled aliens will soon have work authorization and will be competing not only with U.S. citizens for jobs, but also with each other in a battle that will further drive down wages.
In case of any doubt about the administration's ultimate goal of more accessible cheap labor, Mayorkas made it crystal clear. Testifying at a Senate Judiciary Committee hearing, Mayorkas said: "Regrettably, our legal immigration system is not designed to meet the needs of employers here in the United States."
Mayorkas is either a) brazenly lying or b) given his position as DHS Secretary shockingly unaware that every year the federal government grants more than 1 million lawful permanent residents lifetime work permission and another 1 million guest workers enter to perform a wide variety of jobs which, for the most part, Americans are eager to do.
For the wagering public, option a) is the best bet.
–
Copyright 2023 Joe Guzzardi, distributed by Cagle Cartoons newspaper syndicate.
Joe Guzzardi is a Project for Immigration Reform analyst who has written about immigration for more than 30 years. Contact him at [email protected].