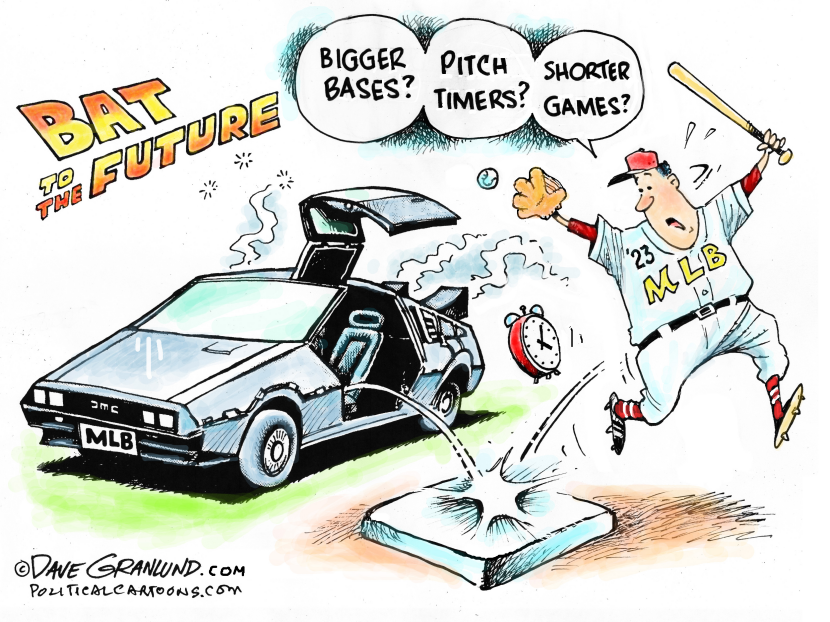 Subscribers Only Content
High resolution image downloads are available to subscribers only.
---
Not a subscriber? Try one of the following options:
OUR SERVICES
PAY-PER-USE LICENSING
FREE TRIAL
Get A Free 30 Day Trial.
No Obligation. No Automatic Rebilling. No Risk.
With the Hall of Fame induction ceremony set for this weekend, here's a baseball quiz. The question: What do Babe Ruth, Ty Cobb, Scott Rolen and Fred McGriff have in common?
Although Ruth, Cobb, Rolen and McGriff have widely different skill levels, all four are Hall of Fame inductees. In many scribes' minds, the vast talent gap between the enshrined great and the very good is proof that the institution has lost its exclusivity. In too many cases, induction isn't warranted.
Ruth and Cobb are baseball titans elected along with Honus Wagner, Walter Johnson and Christy Mathewson in 1936 in the first-ever Hall of Fame class. Meanwile, it took Rolen six ballot appearance before he was able to squake into the Hall with 76.3 percent of the vote, barely over the minimum 75 percent required.
McGriff took a more circuitous route. After failing to reach the mandatory 75 percent for 10 consecutive years, the Baseball Writers' Association of America, as per its rules, dropped McGriff's name from the ballot. A few years later, McGriff reappeared on the Contemporary Era committee where he was unanimously elected. The Contemporary Baseball Era includes players from 1980 to the present day, while the Classic Baseball Era spans the period prior to 1980 and includes Negro Leagues and pre-Negro Leagues stars. In other words, just because the Baseball Writers' Association of America initially rejects a player – and in some cases, resoundingly rejects – doesn't mean that he won't reappear on either Classic or Contemporary Era ballot.
Rolen and McGriff are very good players and would be welcome additions to any roster. But they're not Hall of Fame worthy. Without getting too deeply into sabermetric weeds, McGriff in his 19-year career notably hit 30 home runs or more 10 times and led the league in that category twice. But McGriff never finished higher than fourth in Most Valuable Player award voting, a telling evaluation of his overall value to the six teams he played for. Many feel that Hall of Fame inductees should be the dominant players of their era, not merely key contributors.
Rolen's Hall of Fame credentials are less persuasive than McGriff's. Like McGriff, Rolen never finished higher than fourth in MVP balloting, but he had no league-leading categories, and was elected on the basis of his eight Gold Gloves – nice, but not Hall of Fame stuff.
The moment a debate about a candidate's credentials arises, he's probably not Hall of Fame material.Center field: Willie Mays, Mickey Mantle, Joe DiMaggio; Right field: Henry Aaron, Roberto Clemente, Frank Robinson; Catchers: Johnny Bench, Yogi Berra, Roy Campanella, Bill Dickey, Pitchers: Bob Feller, Tom Seaver, Whitey Ford – no one argues about their top place among the greats. But when five failed ballots have been cast, and on the sixth, the player gets elected by the slimmest margin, as is Rolen's case, he doesn't belong.
The solution: eliminate the extra committees designed to expand the total inductees, reduce the ten-year eligibility to three years, and increase the approval margin from 75 percent to 90 percent. The truly great will easily reach the 90 percent plateau, while those who fall short will remain on the outside looking in.
Baseball will never see another class like 1936, but the Baseball Writers' Association of America should keep Cobb, Ruth, Wagner, Johnson and Mathewson's greatness in mind when they vote.
–
Copyright 2023 Joe Guzzardi, distributed by Cagle Cartoons newspaper syndicate.
Joe Guzzardi is a Project for Immigration Reform analyst who has written about immigration for more than 30 years. Contact him at [email protected].