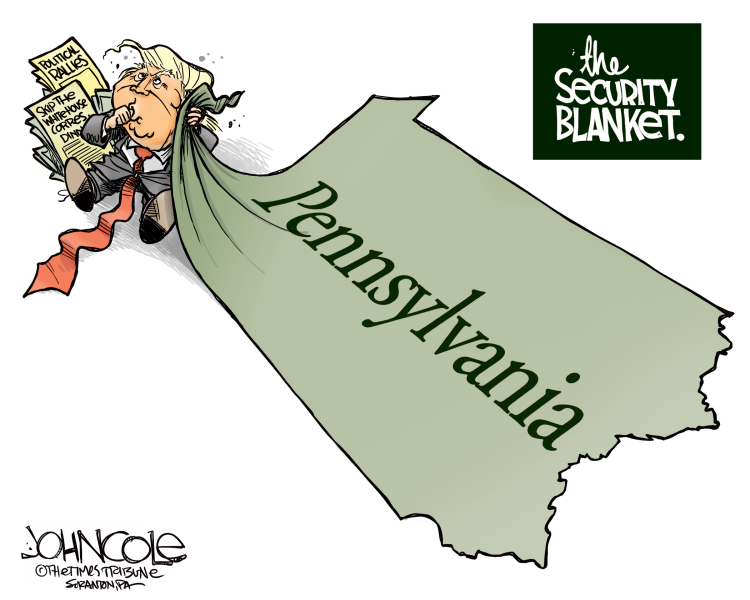 WILKES-BARRE TWP, Pa. – In a test of his election year clout, President Donald Trump returned a familiar electoral battleground this week to try to put one of his biggest supporters over the top in a key U.S. Senate race.
In a speech riddled with his usual falsehoods, boasts and attacks on the media, Trump plugged the candidacy of U.S. Rep. Lou Barletta, an immigration hawk from Pennsylvania's anthracite coal country.
But because this was a Trump event, and the spotlight never wanders far from the nation's 45th president, Barletta, who's been struggling to catch Democratic incumbent U.S. Sen. Bob Casey in the polls and in fundraising, got little more than four minutes of stage time to himself.
The rally here was in Barletta's backyard and he was largely preaching to the converted. The real audience was the one watching on television statewide, where Barletta is still not well-known. So this star turn was a critical one.
Taking the stage to cheers, Barletta lit into Casey, even as he hit on some red meat Republican issues.
"We want to secure our borders," Barletta said. "We want to put an end to illegal immigration once and for all. I need everybody here and everybody watching to help me help President Trump drain the swamp."
Trump also gave Casey, who's seeking a third term on Capitol Hill, an official presidential nickname, "Sleeping Bob," even as he falsely accused Casey of wanting to abolish Immigration and Customs Enforcement, of not wanting to meet with the president's Supreme Court nominee and working against Pennsylvania coal miners.
Casey, in fact, did none of the above. He opposes abolishing ICE, plans to meet with appellate Judge Brett Kavanaugh (though he remains a solid "no" vote) and helped pass legislation shoring up pension and medical benefits for miners.
In a statement, Casey shrugged off Trump's criticisms, saying he wasn't running against the president in 2018, but rather "against a member of Congress who has voted in lockstep with a corporate special interest agenda that is stacking the deck against working families and holding Pennsylvania's middle class back."
Trump's return to Pennsylvania comes amid a mid-term season that's expected to favor Democrats, who have their eyes set on a takeover of the U.S. House and Senate.
Pennsylvania played a pivotal role in Trump's 2016 win. And thanks to a court-imposed congressional map, the Keystone State could deliver as many as a quarter of the 23 seats Democrats need to flip control of the 435-member House.
A takeover of the Senate, where Republicans hold a 51-49 majority is trickier, thanks to a larger number of seats that are in play, including 10 in states that Trump carried in 2016.
Barletta has struggled to close both a polling and fundraising gap with Casey. And he has faced skepticism from some Republicans on his ability to close the deal.
Enter Trump.
Trump-backed Republicans, such as Florida governor candidate Ron DeSantis, have seen their fortunes rise after getting presidential endorsement in their own hard-fought primaries.
Trump's rally, put on his campaign committee, doubled as a fundraiser that was expected to pump thousands of dollars into Barletta's coffers. Campaign spokesmen declined to say how much they raised.
But whether Trump can translate the energy in a northeastern Pennsylvania hockey arena into general election votes against Casey is a separate question, analysts said.
"In Republican primaries, the president's endorsement is a wonderful asset. In a general election, in more competitive states, it is much less certain to be of value, and more likely to be a liability," said Christopher Borick, a political science professor at Muhlenberg College in Allentown, Pa.
And while Trump was able to lure blue-collar voters, independents and some disaffected Democrats, handing him a huge win in Luzerne County, "Bob Casey isn't Hillary Clinton and Barletta isn't Donald Trump," Thomas Baldino, a political science professor at nearby Wilkes University noted.
Other prominent Pennsylvania Republican candidates, including GOP governor hopeful Scott Wagner and Dan Meuser, a former state revenue secretary who's running for Barletta's Congressional seat, also addressed the Trump faithful here.
Revving up the crowd, Wagner, a former state senator, said Trump's supporters weren't "deplorables" as Clinton famously noted in 2016.
"You're disrupters – and that's why you're here tonight," he said.
In less than 100 days, we'll know if Wagner was right.
–
Copyright 2018 John L. Micek, distributed by Cagle Cartoons newspaper syndicate.
An award-winning political journalist, Micek is the Opinion Editor and Political Columnist for PennLive/The Patriot-News in Harrisburg, Pa. Readers may follow him on Twitter @ByJohnLMicek and email him at [email protected]