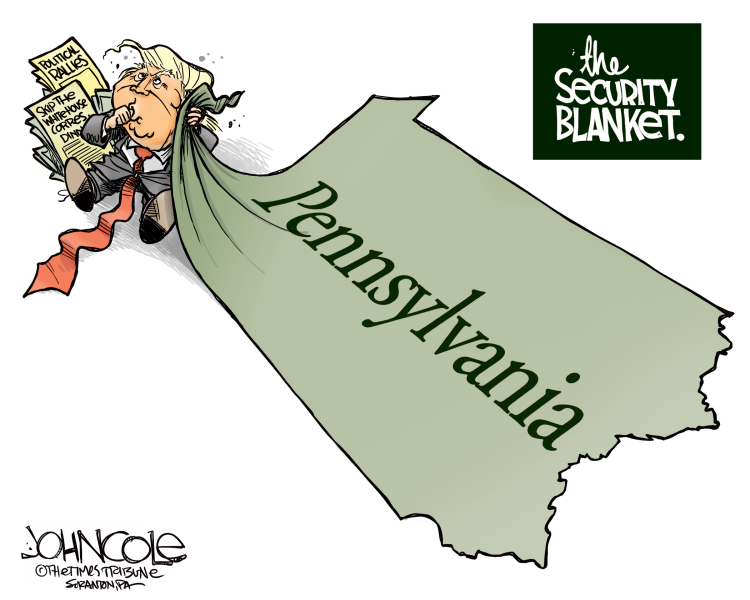 ERIE, PA – With his second U.S. Supreme Court confirmation in the bag, President Donald Trump took a victory lap around this city by the lake on Wednesday night, skewering "radical" Capitol Hill Democrats and the "dishonest" media, even as he exhorted supporters to vote in next month's midterm election.
Standing in a hockey arena just blocks from the shores of Lake Erie, Trump called Democratic efforts to defeat new Justice Brett M. Kavanaugh's nomination "a national disgrace," and dismissed Democrats "as the party of crime."
Amid predictions of a Democratic take-over the House and a possible one in the Senate, Trump warned that if current House Minority Leader Nancy Pelosi and "the Democrats take over Congress, they will try to raise your taxes – we've lowered them tremendously – impose socialism, which is where they are coming from; and take over and destroy American health care."
"I say this and I mean this, the Democrats are the party of crime," Trump continued. "Republicans are the party of law, order and justice. And we are also the party of jobs, jobs, jobs."
Across an hour-long speech, Trump hit on familiar themes. He touted tax cuts passed last December, bragged about the resurgence of "beautiful, clean Pennsylvania coal," his renegotiation of the North American Free Trade Agreement, and his efforts to contain illegal immigration.
Still, Trump's visit to Pennsylvania, his second in as many weeks and seventh in 2018, comes at a tenuous time for Keystone State Republicans.
State party leaders have already acknowledged that they will lose House seats in the mid-term contest. The question is how many seats will be turned.
Pennsylvania was central to Trump's 2016 White House win. He beat Democrat Hillary Clinton by 44,000 votes, snapping a three-decade-old presidential winning streaks for Democrats. But thanks to a court-imposed congressional map that strengthened the Democrats' hand, as many as a half-dozen Pennsylvania seats could flip from red to blue in November.
While Republicans narrowed the enthusiasm gap with Democrats nationally in the wake of the conflagration surrounding Kavanaugh's confirmation, the generic ballot remains favorable to Democrats by an average of 6.9 percentage points, according to RealClear Politics.
Republican Senate candidate Lou Barletta has struggled to close a fund-raising and polling gap with Democratic incumbent Democratic Sen. Bob Casey, who has held an average 16-point lead in the race, according to RealClear Politics.
Trump, who nicknamed Casey "Sleepy Bob" during a rally in Wilkes-Barre in August, kept up his drumbeat of criticism against the two-term Democrat.
"While Lou is fighting for you, Bob Casey is fighting to protect violent criminal aliens. Bob Casey voted for deadly sanctuary cities that release thousands upon thousands of violent criminal gang members to prey on Pennsylvania citizens," Trump said.
Trump also repeated a false claim that Casey wants to abolish Immigration and Customs Enforcement. He does not.
"Pennsylvanians will see these desperate scare tactics for what they are because they know Bob Casey has always fought for them," Casey's campaign spokesman, Max Steele, said in an email.
The race between Erie-area Republican Rep. Mike Kelly, a four-term incumbent, and Democrat Ron DiNicola, a former Marine and former Erie County solicitor, has been a talker in northwestern Pennsylvania this year.
"Take the enthusiasm you have tonight and the love you have in your hear for the greatest nation in the history of mankind, and you're going to get out and vote," Kelly said. "You're going to turnout in numbers you never thought you'd turn out. You've got to play it through the whistle."
As he has at other rallies, Trump made it clear Wednesday that it's on his MAGA faithful to turn out on Election Day.
"I need your help this Election Day on Nov. 6 to stop the radical Democrat mob from trying to take it away. I need you to show up at the polls to continue this incredible movement, like the country has never seen before. The only reason to vote Democrat is if you are tired of winning."
–
Copyright 2018 John L. Micek, distributed by Cagle Cartoons newspaper syndicate.
An award-winning political journalist, Micek is the Opinion Editor and Political Columnist for PennLive/The Patriot-News in Harrisburg, Pa. Readers may follow him on Twitter @ByJohnLMicek and email him at [email protected]