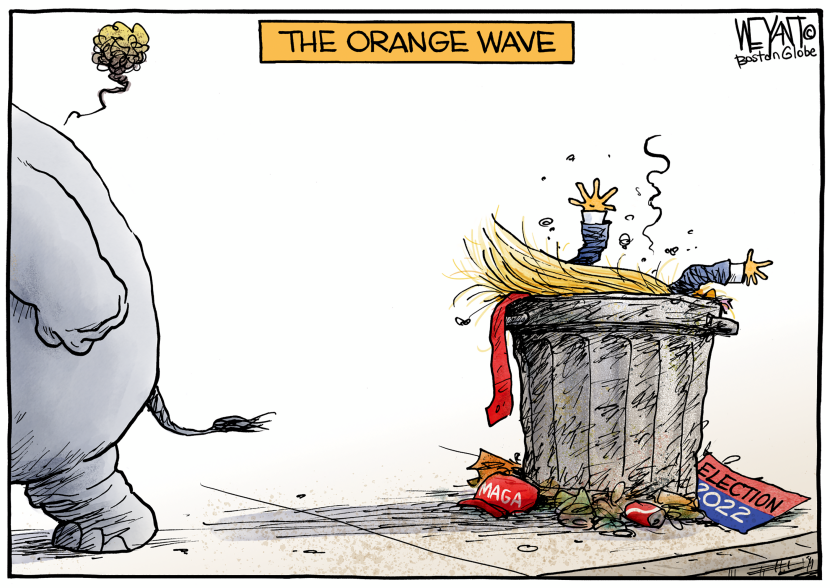 Subscribers Only Content
High resolution image downloads are available to subscribers only.
---
Not a subscriber? Try one of the following options:
OUR SERVICES
PAY-PER-USE LICENSING
FREE TRIAL
Get A Free 30 Day Trial.
No Obligation. No Automatic Rebilling. No Risk.
Though their reasons and motivations may have differed, when they came out to the polls on Tuesday, Pennsylvania voters were sending a clear message about the people they want representing them in Washington and in Harrisburg.
They wanted someone who heard the voices of the state's Black residents, and didn't take their support for granted. They were looking for someone to stand as a bulwark against attacks on reproductive rights. They were looking for someone to tear down barriers to economic opportunity and to create a space where, if the playing field was not entirely level, they were not running uphill.
Most of all they, were looking for someone who could ease the worries and feed the hopes of every parent: That when they send their kids to school in the morning, they'd walk along safe streets and come home to them in one piece at day's end.
"So many of the issues that impact Philadelphia are tied to money, power, and respect," school administrator Will Mega said. "Power comes through a quality education. Respect is tied to love. And love is the ultimate way to end gun violence. You can't kill someone you love."
On every level, Pennsylvania Republicans failed to deliver.
Democrats Josh Shapiro and John Fetterman each won convincing victories against their Republican opponents, who were dramatically out of step with the majority of the state's voters.
Fetterman, the current lieutenant governor, beat Republican celebrity surgeon Mehmet Oz in Pennsylvania's Senate race. Oz is a longtime New Jersey resident whose efforts to outrun the wealthy carpetbagger label might well have been dealt the final blow when he didn't know the Sunday before Election Day was a Steelers' bye week.
"This campaign was for everyone who got knocked down and got back up," Fetterman, who suffered a stroke just before the May primary, said as he repeated a line that became a fixture of the campaign's closing weeks.
Fetterman is a far from perfect messenger. He, too, comes from wealth, and was supported by his parents for years while serving as the mayor of Braddock outside Pittsburgh.
Nonetheless, Fetterman's blue-collar patter, which is underlined by unmistakably progressive values, connected with working-class voters in the southwestern Pennsylvania counties that went for former President Donald Trump in 2016.
More importantly, Fetterman outperformed President Joe Biden in those counties he carried in 2020, while Oz lagged Trump in turf that the former president won two years ago.
During his acceptance speech on Tuesday night, Shapiro cast his election as Pennsylvania's next governor as a choice between a government that would protect children and the vulnerable and defend reproductive rights, and an authoritarian regime that would gut reproductive freedoms, lay siege to voting rights and slash school funding.
"Opportunity won. A woman's right to choose won. The right to organize here in Pennsylvania, that won," Shapiro said from the stage of the Greater Philadelphia Expo Center in Montgomery County.
"Your right to vote won. And in the face of all the lies and conspiracies and baseless claims, you also ensured tonight that truth won right here in the commonwealth of Pennsylvania," Shapiro continued. "And you know what else won tonight? Real freedom won tonight."
Shapiro's nearly 14-point drubbing (based on unofficial tallies) of ultra-conservative Republican nominee Doug Mastriano, who has trafficked in baseless claims of election fraud and cloaked himself in Christian nationalism, strongly suggests that many Pennsylvania Republicans also want no part of the far-MAGA fringe.
As was the case with Oz, Mastriano underperformed in counties that Trump carried in 2020, such as Crawford County, which the former president carried with 68 percent of the vote two years ago. Mastriano lagged by 9 percentage points at 59 percent, unofficial tallies showed.
Shapiro also rolled past Biden on the president's old home turf in Lackawanna County, taking 61 percent of the vote, according to unofficial tallies, to Biden's 2020 total of 53.7 percent.
That result not only evidences a support that is both wide and deep, it's also an unmistakable repudiation of the hard-right extremism that has poisoned and threatened to overwhelm our politics.
As he left a polling place in suburban Harrisburg on Tuesday morning, lifelong voter Bill Fulton, a Democrat, summed up the sentiment that ended up being on the minds of thousands of his fellow citizens on Election Day.
"I just want to reverse the tide of authoritarianism," he said.
–
Copyright 2022 John L. Micek, distributed exclusively by Cagle Cartoons newspaper syndicate.
An award-winning political journalist, John L. Micek is Editor-in-Chief of The Pennsylvania Capital-Star in Harrisburg, Pa. Email him at jmic[email protected] and follow him on Twitter @ByJohnLMicek.