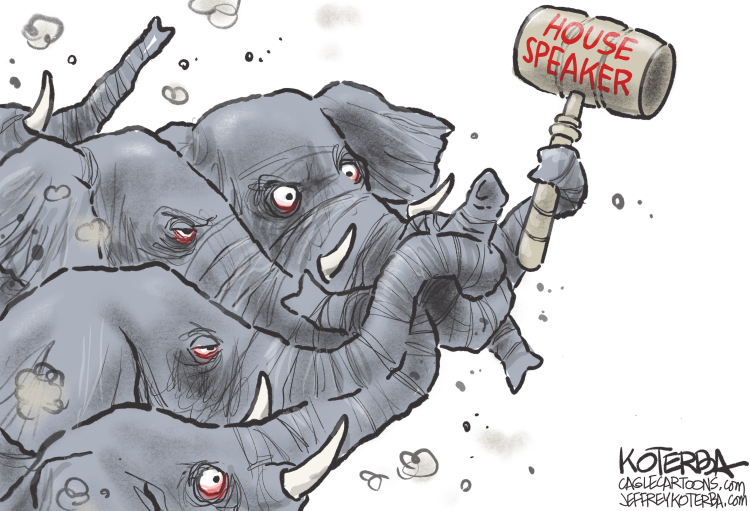 Subscribers Only Content
High resolution image downloads are available to subscribers only.
---
Not a subscriber? Try one of the following options:
OUR SERVICES
PAY-PER-USE LICENSING
FREE TRIAL
Get A Free 30 Day Trial.
No Obligation. No Automatic Rebilling. No Risk.
Making Sense by Michael Reagan
It's been a political clown show.
It's been a variation of the old truth that you shouldn't watch sausage or legislation being made.
It's been a rare primetime glimpse into the minds of politicians who'd rather break up into factions and fight with their own party members than find common ground and fight against their natural political foes.
I'm referring, of course, to this week's prolonged soap opera in the House of Representatives, where the Republican Party is now narrowly in control, 222-213, yet appears to be unable to elect a speaker.
Rep. Kevin McCarthy was always the favorite to replace the dethroned wicked queen, Speaker Nancy Pelosi.
But he needs 218 votes from his fellow Republicans to win the job and after 11 votes in the House, as of Thursday evening about 20 hardline conservatives were still refusing to vote for him.
The conservatives don't have a guy of their own for speaker. They also don't have a plan for what they want the House to do or focus on. They just don't want McCarthy.
Whether McCarthy or someone else is ultimately elected, the prolonged fight over who gets to be House Speaker is a bad omen for Republicans.
After the midterms, they were all fired up to stop the Biden administration's madness at home and abroad and maybe even do some good things to reverse some of it.
But if they can't even agree on electing a speaker, and if individual House members get the power they want to hold up any bill whenever they want, what's going to happen when Republicans have to address something big, like the debt ceiling?
No GOP speaker is ever going to have "Pelosi Power." No Republican House will ever become a speaker's rubber stamp like Pelosi's. Republicans are notoriously hard to keep together – they're like herding cats. Feral cats.
That means some Republicans are going to want the House to spend the next two years holding hearings to investigate Hunter Biden, his family and father.
Others will want to investigate Anthony Fauci and the CDC, or find out who screwed up in Afghanistan. Others will want to focus first on the southern border, inflation or Ukraine.
In the case of going hard after Hunter Biden, it would be a complete waste of the Republican Party's time and political capital.
We already know Hunter's a criminal. We know he's been selling access to his father to foreign governments and companies for decades.
But does anyone seriously think that the Biden Department of Justice is going to take down Hunter or investigate "the Big Guy"? Or that the mainstream media will cover it properly? No.
The Democrats, as bad as they are, are not dysfunctional as a party. The Republicans, as good as they might be, are absolutely dysfunctional – and this week they've proved it.
The party needs a strong leader to stand up in the House and be allowed to lead. You can't lead with a small caucus of hardline conservatives that can change week to week.
If you ask me, I'd pick Steve Scalise. He's an real GOP hero. And no Republican is going to vote against someone who took a bullet for the party.
In any case, unless the anti-McCarthy forces in the House can come up with their own leader, they need to just shut up and get back to work.
The most important thing for Republicans to do now is to unite and begin working to prevent Bidenism from wrecking any more of the country.
If Republicans don't get their act together soon and start doing the business of the people who elected them, it's a cinch they won't be in control of the House after the 2024 elections.
If that happens, we might be better off with the Democrats running the House forever, because it seems Republicans are much better at leading from behind than the front.
–
Copyright 2023 Michael Reagan, distributed exclusively by Cagle Cartoons newspaper syndicate.
Michael Reagan, the son of President Ronald Reagan, is an author, speaker and president of the Reagan Legacy Foundation. Send comments to [email protected] and follow @reaganworld on Twitter.