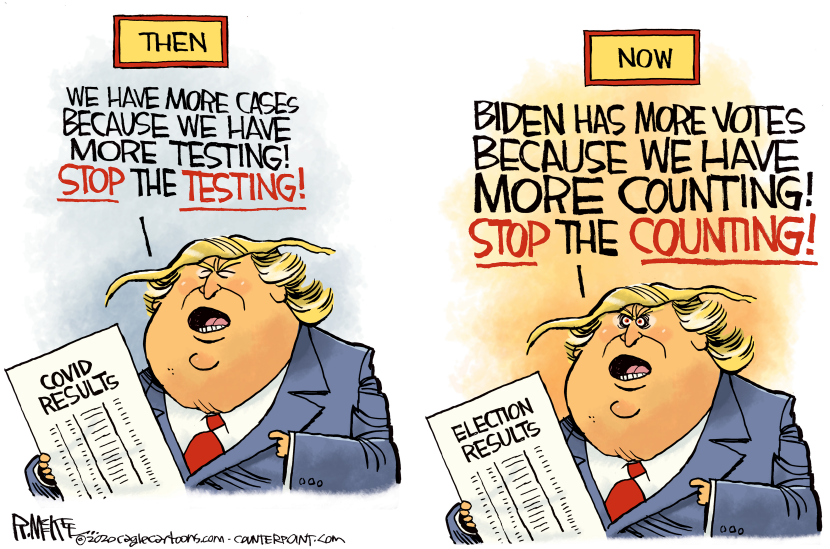 Those of us who assumed Election Day would mark a merciful end to the torrent of emails asking for money, obviously don't understand the new normal in politics. On Nov. 5 the Trump campaign emailed:
"Defend the Election. We need you to protect the election results!" It asked for a donation which would be "matched by 1000%."
Minutes later, the Biden campaign emailed:
"Peter, your donation – right now – to the Biden Fight Fund will help prevent Donald Trump and Republican's attempts to throw out duly cast ballots and steal elections."
Does this ever end? What's next?
Nov. 10 – "Fellow Democrat: Our election victory still faces challenges in court by desperate Republicans. Will you donate $25 today to the Biden Legal Fund?"
Nov. 26 – "Friend, we all have so much to be thankful for. Please click below to make your donation of $10 or more to the Biden Thanksgiving Fund."
Nov. 27 – "As we continue to digest our election victory, help show your support by sending $50 to the Biden Black Friday Fund."
Dec. 8 – "Fellow Democrat, the inauguration is drawing near and there's work to be done! Use the link below to make your pledge to the Biden Inauguration Fund!"
Dec. 23 – "Greetings! Please show your support by signing this digital holiday card for Dr. Jill Biden and President-Elect Joe Biden. Donations to the Biden Holiday Fund are welcome."
Jan. 5 – "As you know, most presidents wear a red tie for their inauguration, but some have opted for blue. Please take a moment to share your preference for Joe's big day, and give what you can to the Biden Wardrobe Fund."
Jan. 6 – "Dear Supporter, we wish you could join us in Washington for the inauguration, but participating in our online gathering is the next best thing! Click here and contribute $50 to reserve your spot for the Biden Zoom Fund."
Jan. 14 – "Friend, we know you get a lot of requests for political donations. Joe's team wants to put an end to that. Please help our effort by contributing to the Biden Donation Fund."
Jan. 20 – "Hello! It's a new day in America. As Joe takes the oath of office, please help us prepare for the tough fights ahead. Give today to the Biden First Term Fund."
Jan. 21 – "Fellow Americans, Joe needs your help! Please click below to make your urgently-needed donation to the Biden Re-election Fund."
–
A list of Peter Funt's upcoming live appearances is available at www.CandidCamera.com.
Peter Funt is a writer and speaker. His book, "Cautiously Optimistic," is available at Amazon.com and CandidCamera.com. Copyright 2020 Peter Funt. Columns distributed exclusively by Cagle Cartoons, Inc., newspaper syndicate.