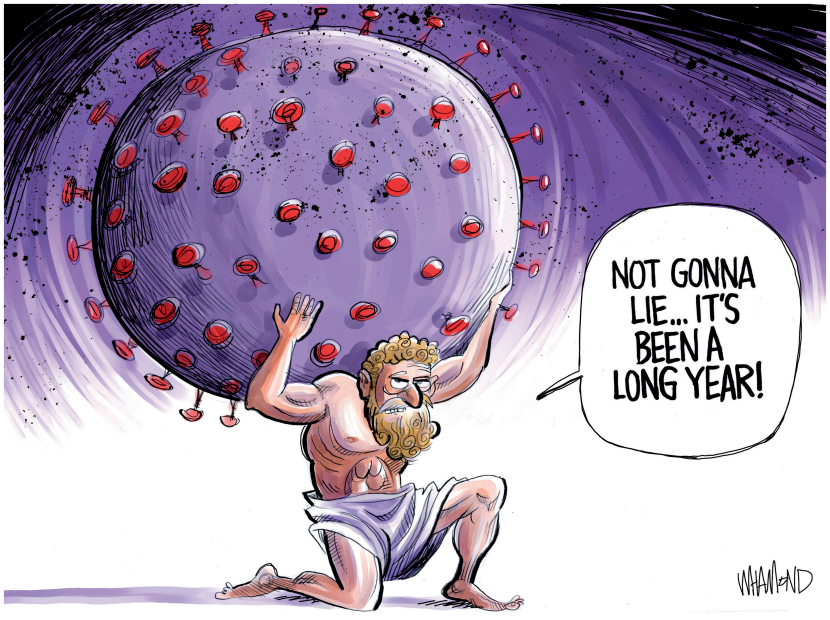 The basketball game ended. Then, something happened that I haven't seen.
Every member of the winning team stood and cheered the players they had just defeated; six members of the Asbury University women's basketball team. There were only six Asbury players in uniform to laud. The rest of the team was in COVID quarantine.
The standing ovation was an acknowledgement by the winners, from West Virginia Tech, that they had just witnessed something unusual, something heroic. This was more than a ceremonial handshake or fist bump. This was a tribute to the extraordinary.
Tech took the last shot in a 72-72 game, a desperate three-pointer as the buzzer blared. It was perfect. The Tech players mobbed the shooter at midcourt. But as the defeated Asbury players left the floor, most of them in tears, the winning team and the crowd stood as one, in appreciation for six young women who had given every bit of themselves for each other and for those who weren't here.
This is a good story and one that needs telling because you probably haven't heard about it. Nor will you. It isn't big enough. Small-college basketball. It wasn't on TV and no one will be discussing it on sports talk radio tomorrow. But it happened.
The sports-as-a-metaphor-for-life theme is overused. But if there's a better example of what a handful of young people are capable of when their greatest attributes are faith and commitment, I haven't seen it, at least not in person.
On a rainy Saturday afternoon in Wilmore, KY, on Asbury's campus, the Lady Eagles basketball took the floor in a River States Conference semifinal against a powerful West Virginia Tech team. The Eagles consisted of one senior starter and five freshmen. The remaining starters and leading scorers weren't in the building. The purple and gray jerseys of those not here were draped over their seats on the bench.
With the same six players in uniform, the Eagles had already stunned a good Oakland City University (Indiana) team two days earlier, winning by 10 in the conference quarterfinal. It was the story of the year, at least so far. The conference had asked the Eagles if they even wanted to play the game.
"Not playing never entered our minds," Eagles head coach Chad Mayes said.
But Tech would be a much taller order. A better team with its full roster of players against an Eagles team which would, once again, start four true freshmen, two of whom saw very little playing time during the season. It seemed only a matter of time before the upstarts would run out of gas and hit a wall. Truth is, it would have surprised no one had the Eagles lost by 25 – no one except the Eagles players themselves, who were unfazed by their circumstances.
Every time it looked as if Tech was ready to take control, the Eagles found a reserve, even taking an eight-point lead in the second half. This was Miracle, Hoosiers and Karate Kid in the making before our eyes.
Back and forth they went, as the lead changed hands multiple times in 40 minutes. With 53 seconds remaining, that game was tied at 72.
The Eagles had a chance to take the lead but barely missed a driving layup attempt that rolled around the rim and out. Tech would hold for one last shot.
With time running out and nowhere to go, a Tech player launched a three-pointer that seemed to rest, temporarily, on a shelf in midair. And down it went.
As the Tech players piled on one another at midcourt, there stood Asbury's six – freshmen Kayla Harlow, Spencer Harvey, Trinity Shearer, Paige Taylor, Emma Strunk and senior Kelsey Johnson – drained, staring in disbelief at the scoreboard.
No, this wasn't Hoosiers. Rocky, maybe, but not Hoosiers. And then it became something even better.
As the Tech players stood and applauded the six Eagles as they left the floor, I couldn't help but think of what those who weren't here, in this central Kentucky gym on Saturday, were missing.
It was perseverance in purple and gray. No excuses, no hesitation. It was mutual respect between rivals; a deep appreciation for one another, even those on the other side. It was selflessness embodied and a willingness to sacrifice, body and soul, for teammates.
A good story indeed. The heroes just happened to be basketball players.
–
Copyright 2021 Rich Manieri, distributed by Cagle Cartoons newspaper syndicate.
Rich Manieri is a Philadelphia-born journalist and author. He is currently a professor of journalism at Asbury University in Kentucky. You can reach him at [email protected]