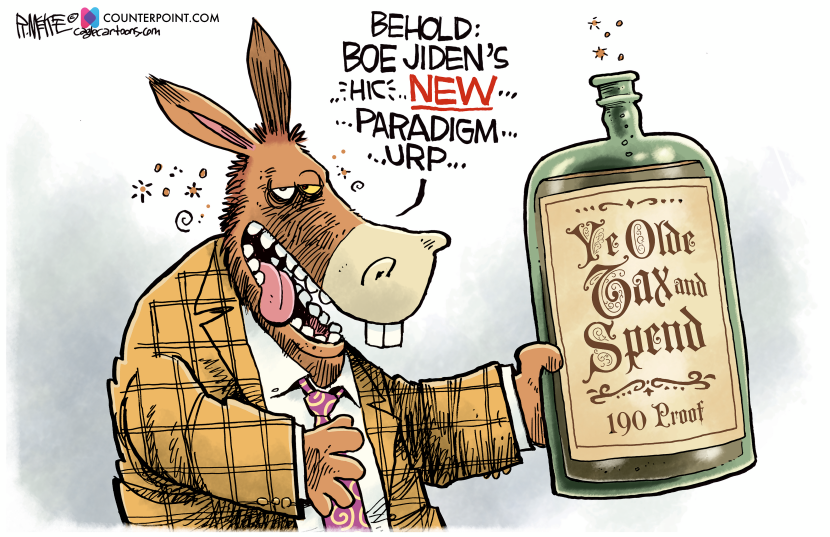 Subscribers Only Content
High resolution image downloads are available to subscribers only.
---
Not a subscriber? Try one of the following options:
OUR SERVICES
PAY-PER-USE LICENSING
FREE TRIAL
Get A Free 30 Day Trial.
No Obligation. No Automatic Rebilling. No Risk.
"Junior, this year to prepare for 'Take Our Daughters and Sons to Work Day' I want to teach you about all the taxes that you'll have to pay as a working adult."
"What are taxes, Dad?"
"Taxes are what the government will take out of your paycheck, and will tack onto almost everything you will purchase, to fund lots and lots of programs, Junior — many of which are unnecessary."
"Unnecessary, Dad?"
"Junior, when our country was founded in 1776, our founders believed in limited government and they knew from history that the bigger and stronger any government gets, the more it inhibits the freedoms of its citizens."
"OK, Dad."
"The founders worried that our republic, which is governed by the people, would only thrive as long as the people were wise and always concerned about their government getting too big and strong. But too few people today have any such concern. And that is why our country is out of control."
"Out of control, Dad?"
"Our national debt has ballooned to $31 trillion, Junior — And climbing. Since lots of people and their cronies in Washington benefit from reckless spending — and politicians get elected by bribing citizens with their own money — few are serious about reigning it in. There are lots of incredible examples of waste."
"Can you share some, Dad?"
"Take the Department of Defense, Junior. We all agree that a key role of government is to protect its citizens. However, the DOD is so poorly managed, a recent audit cannot account for 60% of its assets. It looks like we'll spend nearly $900 billion a year to fund the DOD this year, yet we have little idea where all of that money is going?"
"I am learning from you and Mom to be careful managing money."
"One of the greatest tragedies in recent years is the $8 trillion we spent in Iraq and Afghanistan. We lost 7,057 service members in the process and tens of thousands of lives were lost in both countries. So many of our service members who served there are forever damaged by their experience. What a tragic waste."
"You are making me feel sad, Dad."
"Well, let's see if I can make you laugh, then, Junior. Readers Digest shares a list of some very silly government-funded activities. Did you know that for more than 20 years, Northwestern University researchers received a total of $3 million in government funds to inject hamsters with steroids, then watch them fight!"
"Those poor little hamsters!"
"The researchers stopped that study when animal activists learned of it. Here's another one: Every single day the government prints out the Federal Register at a cost of $1 million a year and delivers it to every member of Congress. But the Federal Register is available online for free."
"That doesn't sound very smart, Dad."
"Junior, my heart breaks when I think of the high taxes your generation is going to have to pay to cover all the reckless spending our government is doing now. You are very young, but it's never too early to introduce you to these harsh realities. Next April, I'll introduce you to the cost of onerous government regulations!"
"Great, Dad. I can't wait until next year, when I turn 5!"
–
Copyright 2023 Tom Purcell, distributed exclusively by Cagle Cartoons newspaper syndicate.
Purcell, creator of the infotainment site ThurbersTail.com, which features pet advice he's learning from his beloved Labrador, Thurber, is a Pittsburgh Tribune-Review humor columnist. Email him at [email protected].