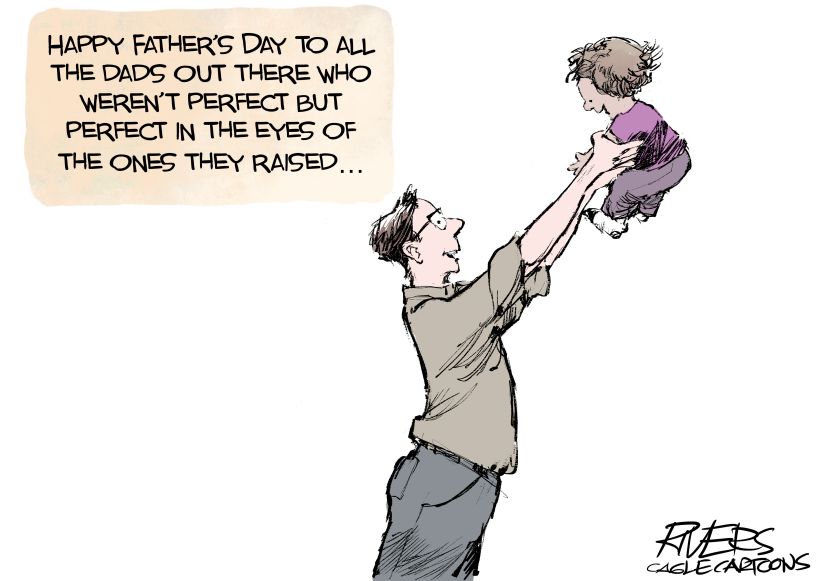 Subscribers Only Content
High resolution image downloads are available to subscribers only.
---
Not a subscriber? Try one of the following options:
OUR SERVICES
PAY-PER-USE LICENSING
FREE TRIAL
Get A Free 30 Day Trial.
No Obligation. No Automatic Rebilling. No Risk.
Modern dads are portrayed as fools in television sitcoms and commercials.
Lucky for me, they are the polar opposite of the loving, strong and decisive father who raised me.
Over the years, as I clogged a toilet with an apple core, shattered a picture window with a baseball and hit a golf ball through a neighbor's window, he had only one thing to say: "Son of a !!!"
He always fixed the things I broke — once he found his tools, which I was forever losing. He often found them lying in the yard after running over them with a klank of a lawnmower blade, to which he would reply: "Son of a !!!"
When I was a teen, I destroyed more expensive items, such as automobiles. My father made the mistake of purchasing a 1979 Ford Pinto with a powerful six-cylinder motor — I could burn rubber at will.
When he discovered that a right-rear tire only six weeks old was worn to the threads, he had but one response: "Son of a !!!"
I had to mow a lot of lawns to pay him back the money I continually owed him, but he taught me early there are consequences for my actions, and that I must always make things right.
As a young man, I saw it as my duty to butt heads with him — unaware that he saw it as his duty to pound the "stupid" out of me.
He grew up without a father and he remembered the dumb things he did in his youth.
He knew that most any boy is only one or two knuckle-headed decisions away from heading off in a dangerous direction. His job was to keep me in line, a task that was often unpleasant for him.
In high school, I began making a lot of money running a stone-masonry business, and I announced I was going to buy my own car. The unenlightened fellow made me do something unpleasant with the money: save it for college.
I was furious and fought him hard — but grateful years later when I graduated from Penn State with a manageable amount of college-loan debt.
The friction my father caused me, I now know, was also the basis for my respect for him. He gave my sisters and me a fine example of a man to emulate.
He worked hard, yet never allotted himself more than $5 a week to buy a couple cups of hot coffee.
He never complained when he was called to work in the middle of the night.
He taught us the meaning of love, dignity, honesty and kindness — never through words, only through his actions.
My sisters all married good men like him. And nothing filled me with more joy than making him proud of me for working hard and doing my small piece of good for the world.
We lost my dad last year and will be mourning his sizable loss this Father's Day — as we celebrate our pride in him for sacrificing so much for our mom, who he adored, and his children, who all turned out well because of the way he lived his life.
We'll especially miss his sense of humor.
A few years after I graduated from college and bought my first nice car, I let him take a drive. He revved the motor, dropped the transmission into gear, then burned rubber all the way up the road.
I had only one thing to say to that: "Son of a !!!"
–
Copyright 2023 Tom Purcell, distributed exclusively by Cagle Cartoons newspaper syndicate.
Purcell, creator of the infotainment site ThurbersTail.com, which features pet advice he's learning from his beloved Labrador, Thurber, is a Pittsburgh Tribune-Review humor columnist. Email him at [email protected].