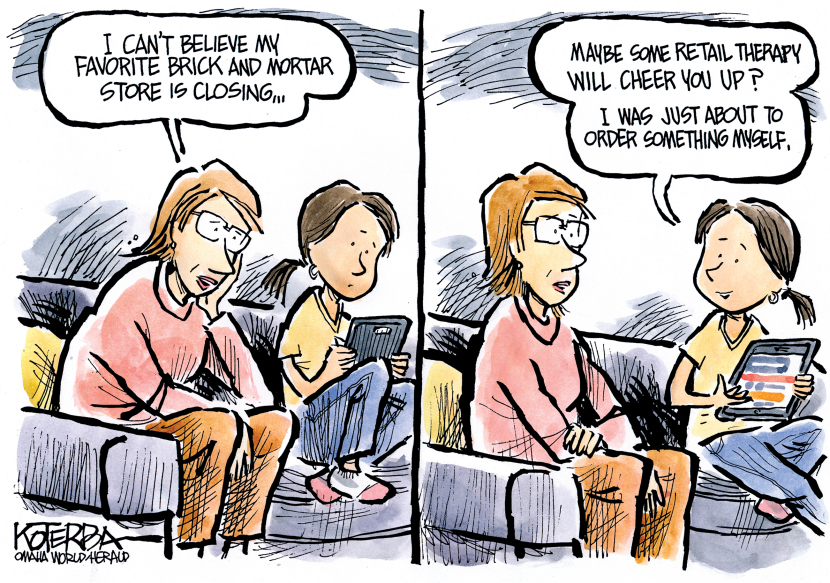 SCOTUS Puts Internet Sales Tax in Play
Editor's note: This is an updated version of a column sent earlier this week, changed to reflect the Supreme Court's decision.
Bloomberg Businessweek just did a feature piece about the demise of Toys R US that, complete with an illustration of a crying Geoffrey the Giraffe, really tugs at your heart strings. It's a clever take that puts the blame squarely on private equity investors and executives who, the magazine claims, kept the company alive for a decade or more by "living on borrowed money."
While that's true in part, there's much more to the story. Almost no where in its exposition of the company's failure does it examine the underlying problem: government policies that favor clicks over bricks by granting tax and regulatory preference to e-tailers over what's come to be known as main street retail.
Up to now, sales tax must be collected on an item purchased via the Internet when the seller has a physical presence in the state in which the buyer resides. The technical term for that is nexus and it meant, according to what the United States Supreme Court found in the case of Quill v. North Dakota, that a state could not mandate the collection of sales tax on goods sold to purchasers living out of state where no nexus existed.
To many, this differentiation became one of the loopholes creating essentially preferential tax treatment for Internet retailers at the expense of local stores like Toys R US, which once dotted the American landscape. It was the toy store of choice for many parents until it became apparent the same items you could by in the store could be bought cheaper on the Internet and delivered to your house already gift wrapped.
On Thursday, the court reversed itself. In a 5-4 decision the justices now found state concerns about revenue loss should take precedence over concerns about a physical nexus. Writing for the majority, Justice Anthony Kennedy opined, "Each year the physical presence rule becomes further removed from economic reality and results in significant revenue losses to the States. These critiques underscore that the physical presence rule, both as first formulated and as applied today, is an incorrect interpretation of the Commerce Clause."
The sweet deal that cut into the ability of stores like Toys R US to survive is now at an end. Some will mourn the end of what they thought was smart shopping that took advantage of a loophole to lawful and legally reduces the amount of taxes paid. What it really was though was tax evasion. Most states have on the books a requirement people who purchase things from another state and have it shipped to them voluntarily remit the sales tax they would have paid if they'd made the purchase at the local mall.
Admittedly it's easier to understand the old system in practice than it is to explain it on paper, but it had a major effect on American shopping habits. It helped e-tail grow at the expense of local retailers. Congress tried and failed to address that bias, leaving government to pick the winners and determine the losers.
If Toys R Us is going to be held up as a cautionary tale, let's be sure to look at the big picture. It's easy, even fashionable to blame private equity, casting investors as modern-day, rapacious, Gordon Geckos buying up companies just to strip them of their assets, make a quick buck, and leave wrack and ruin in their wake. That may be the way it plays out in Hollywood but it's not close to the truth. The people who owned and ran Toys R US lost $1.3 billion getting it wrong in part because they couldn't overcome the growing power of e-tail built on government preference.
It won't take much to level the playing field and ensure everyone is playing by the rules. The Supreme court has put the ball in motion. Now it's up to Congress and the states to make new policies that are fair to everyone. Main Street brick and mortar can successfully compete with click-based e-commerce if the rules are fair and that way everybody, especially the American consumer wins.
–
Copyright 2018 Peter Roff. Distributed exclusively by Cagle Cartoons newspaper syndicate.
Peter Roff is a Washington commentator who appears regularly on One America News. He is a former senior political writer for United Press International and contributing editor at U.S. News and World Report. Email him at [email protected] Follow him on Twitter @Peter Roff