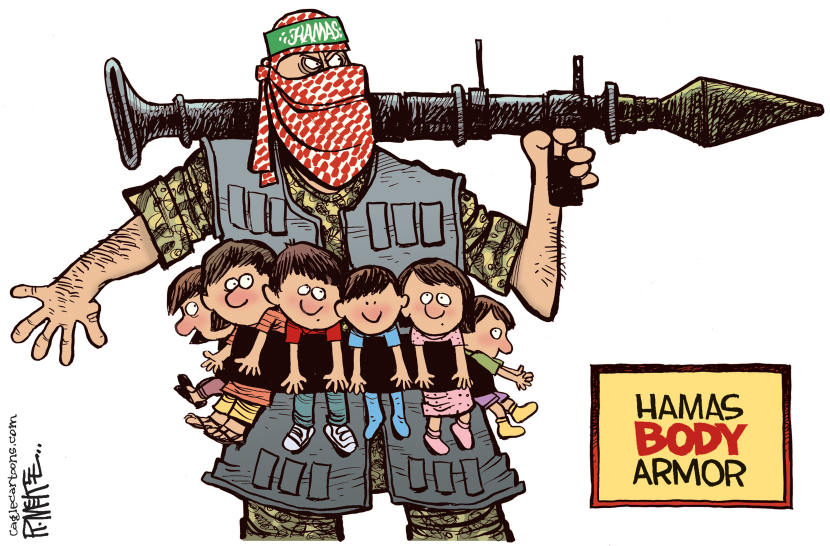 Subscribers Only Content
High resolution image downloads are available to subscribers only.
---
Not a subscriber? Try one of the following options:
OUR SERVICES
PAY-PER-USE LICENSING
FREE TRIAL
Get A Free 30 Day Trial.
No Obligation. No Automatic Rebilling. No Risk.
People who like to draw serious political cartoons for a living – people like me – have to be extra careful in these divisive times.
In just the last month three major newspapers – the Washington Post, the Philadelphia Inquirer and the Guardian in Britain – have pulled down or decided not to publish cartoons drawn by the best editorial cartoonists in the world.
Michael Ramirez, Monte Wolverton and Steve Bell each bravely applied their talents and opinions to the brutal war in Gaza between Israel and Hamas that started Oct. 7.
For their troubles, they were charged with being Islamophobic, anti-Semitic or racist by readers, their fellow journalists and editorial boards. Bell was even fired.
The most recent example was at the Washington Post, where my good friend Michael Ramirez ran his caricature of a Hamas spokesman, Ghazi Hamadi, in a suit with five women and children roped to his body.
"How dare Israel attack civilians…" the Hamas spokesman was saying.
You'd think it'd be easy for anyone to get the point Ramirez was making. Many cartoonists have used the same idea of Hamas or Hezbollah wearing children as human shields, including me.
But many readers immediately expressed outrage on social media and bombarded the paper's comment section from their silos.
Ramirez was charged with excusing Israel's war crimes and pushing Israeli military talking points and accused of being a racist for his malicious, offensive and "grotesque caricature" of a Palestinian.
The reader outrage was so intense that the boss of the Post's opinion section, David Shipley, "re-evaluated" his decision.
He didn't just pull it down from the paper's web site. He issued an apology for having "missed something profound, and divisive" and published a selection of critical comments by readers.
Ramirez ably defended himself on Michael Smerconish's Nov. 11 show on CNN.
Calling the charges against him "ridiculous," he said, "The cartoon was very specific. It pointed out the hypocrisy of an organization that uses civilians as shields" and said his critics "used the race card as a way to eliminate a contrary political opinion they don't agree with."
I agree with Ramirez. It was outrageous how quickly – and abjectly — the Post caved to the complaints of its noisiest, most partisan and most sensitive readers.
What happened last month at the Philadelphia Inquirer to my good friend Monte Wolverton was another example of how careful editorial cartoonists have to be today.
My small business represents Wolverton and syndicates his work. His Oct. 18 cartoon showed an oversized Israeli army boot crushing Hamas terrorists.
It ran in many other newspapers without any complaints, but the Inquirer reconsidered and decided to take it down and apologize because its editors thought the cartoon reinforced "pernicious anti-Semitic tropes about Israeli aggression."
I suggested to Monte that he withdraw the cartoon and apologize for it because I think any big military boot in an editorial cartoon could be seen as a Nazi boot and portraying Jews as Nazis is an anti-Semitic trope.
The most outlandish – and unjustified – case of cartoon cancelling happened to the highly respected Steve Bell of the Guardian newspaper in Britain. He was fired after 40 years at the paper, over a cartoon that was never even published.
His fatal cartoon depicted Benjamin Netanyahu carving the map of Gaza on his bare belly with a scalpel and saying "Residents of Gaza get out now." The cartoon drew upon a famous photo of Lyndon Johnson, lifting his shirt to show a scar from a recent surgery, which formed the basis for a famous cartoon by David Levine, with LBJ showing a scar shaped like Vietnam on his belly – an image familiar to all cartoonists and a good analogy. Gaza is Netanyahu's Vietnam.
Bell quoted his bosses as saying the cartoon could be seen as anti-Semitic because somehow they believed it was playing on the "pound of flesh" line spoken by Shylock, the Jewish moneylender in Shakespeare's 1596 play The Merchant of Venice.
On my "Caglecast" podcast I asked the top three editorial cartoonists in Israel if Bell's cartoon qualified as anti-Semitic and they agreed it wasn't even close. Declaring Bell's cartoon anti-Semitic was a ridiculous stretch.
But it shows how political cartoonists of today really have to know where to draw their lines.
–
Daryl Cagle is the publisher of Cagle.com and owner of CagleCartoons.com, a syndicate that distributes editorial cartoons and columns to over 500 subscribing newspapers. See Daryl's blog at DarylCagle.com and watch his video podcast about editorial cartoons at Caglecast.com