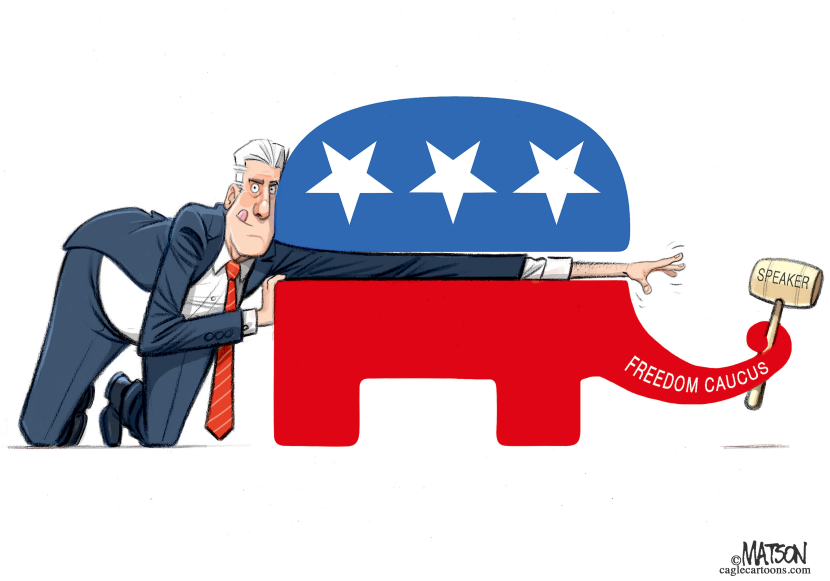 Subscribers Only Content
High resolution image downloads are available to subscribers only.
---
Not a subscriber? Try one of the following options:
OUR SERVICES
PAY-PER-USE LICENSING
FREE TRIAL
Get A Free 30 Day Trial.
No Obligation. No Automatic Rebilling. No Risk.
It's not often that you get the chance to point to Pennsylvania as a case study in comity and consensus building. But with the U.S. House seemingly in permanent residence in Dante's fifth circle with its repeated failures to elect a new speaker, it's worth taking a moment to zoom in on the Keystone State.
Earlier this week, Republicans and Democrats in the narrowly divided, 203-member lower chamber struck a deal to install a compromise candidate as the House's presiding officer, heading off what most expected to be a fiery floor fight on the same day that lawmakers took the oath of office to begin the 2023-24 legislative session.
State Rep. Mark Rozzi, a Berks County Democrat-turned-independent, was handed the gavel after the chamber's Democrats raised objections when Republicans, who hold a narrow – and likely temporary – 101-99 majority, tried to press ahead with electing a new speaker.
Rozzi, a survivor of childhood sexual abuse by a Catholic priest, was not publicly discussed as a candidate. Heading into Tuesday's vote, most observers expected a floor battle between House Democratic Leader Joanna McClinton, of Philadelphia, and Rep. Republican Carl Metzgar, of Somerset County, who'd been widely mentioned in the days leading up to the vote.
Rep. Jim Gregory, a Blair County Republican, and a fellow abuse survivor who has worked closely with Rozzi on abuse-related issues, put the northeastern Pennsylvania lawmaker's name into nomination after several hours of closed-door talks. McClinton, who would have been the first Black woman to hold the Speaker's gavel, dropped her bid, and announced on the floor that Democrats were lining up behind Rozzi.
Moments later, after a 115-85 vote, Rozzi was on the rostrum, announcing that he planned to caucus with neither Democrats nor Republicans, and would instead serve out his tenure as an independent.
"I pledge my loyalty to the people of the commonwealth, the people who are tired of the hyper-partisanship from both parties," Rozzi told lawmakers.
The possibilities that are opened up by having an independent speaker presiding over a narrowly divided House where compromise and consensus would be more than flowery language, but actually necessary for the chamber to function, are dizzying, as PennLive's John Baer noted.
Finding themselves actually beholden to the people they represent, lawmakers might actually pass bills legalizing recreational marijuana, clamping down on gun violence, and raising the minimum wage. All have overwhelming public support, but have remained on the cutting room floor in session after session.
Which makes the contrast between the relative smoothness of Rozzi's ascension and the still-unfolding car crash pitting U.S. House GOP Leader Kevin McCarthy against a breakaway cadre of about 20 Republican hardliners all the more stark.
McCarthy, an ally of former President Donald Trump who'd tried to mollify the ultra-conservative Freedom Caucus lawmakers with a series of concessions, suffered defeat after humiliating defeat as the hardliners denied him the 218 votes he needed to become the next House speaker.
It marked the first time in 100 years that the House, which remains in limbo with lawmakers yet to take the oath of office, had failed to elect a speaker on the first ballot. So far, it's not as bad as the epic, two-month, 133 vote standoff in 1856. That fight, between pro- and anti-slavery lawmakers, still holds the record for the longest floor fight in U.S. history.
It's tempting to think that Republicans in Washington could follow the Keystone State's lead, strike a deal, and work for the good of the people they've been elected to represent.
But the hardliners, whose ranks include QAnon adherents and election-deniers, are so divorced from reality, and so emboldened after nearly a decade of operating with practically unfettered power, that a U.S. House based on consensus and compromise seems like a pipe dream.
So for now, let's give Pennsylvania its moment in the sun, where the birthplace of American democracy actually lived up to its promise.
–
Copyright 2023 John L. Micek, distributed exclusively by Cagle Cartoons newspaper syndicate.
An award-winning political journalist, John L. Micek is Editor-in-Chief of The Pennsylvania Capital-Star in Harrisburg, Pa. Email him at jmic[email protected] and follow him on Twitter @ByJohnLMicek.