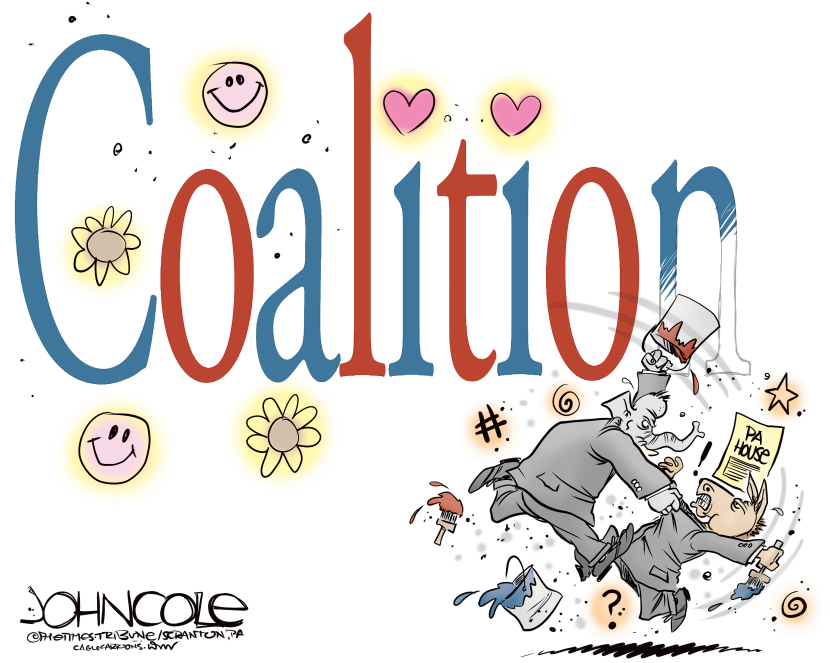 Subscribers Only Content
High resolution image downloads are available to subscribers only.
---
Not a subscriber? Try one of the following options:
OUR SERVICES
PAY-PER-USE LICENSING
FREE TRIAL
Get A Free 30 Day Trial.
No Obligation. No Automatic Rebilling. No Risk.
Moments after he became Pennsylvania's 48th chief executive, Gov. Josh Shapiro delivered a message to state residents who voted for the competition last November.
"To those who didn't cast their vote for me, I heard you too. And I will do my best every day to be a governor for all Pennsylvanians," Shapiro, a Democrat, said, with his wife, Lori, and their four children, looking on from the stage erected outside the state Capitol's East Wing.
It would be easy to dismiss Shapiro's extension of an olive branch, tucked neatly into a speech filled with appeals to Pennsylvanians' better angels, as so much political boilerplate.
What else do you do with this?
"From God's Country to Gettysburg, I heard you when you said you want good schools for our kids, safe communities, and an economy that gives people a shot and lifts them up," he said at one point.
But viewed in their totality, Shapiro's remarks underline both the challenge the onetime attorney general faces as he tries to unite a fractious commonwealth, and the grit he'll have to possess to get the job done in the face of some historic circumstances.
Paralysis has overtaken the House as it tries to thrash out the rules on a special session intended to deliver long-delayed justice to adult survivors of childhood sexual abuse.
It will fall to Shapiro, a former House lawmaker, to help break the logjam. It was his work as attorney general, shining a light on sexual abuse within the state's Roman Catholic dioceses, that gave energy to the ongoing push for reform.
While staying away from policy specifics, Shapiro said he looked forward to dealing with the General Assembly, and hoped to "make progress together." But he also made it clear where he will not meet Republicans halfway.
Shapiro, who supports abortion rights, said he'd listened to voices on the campaign trail, including a woman "who has bravely told us her own story about her decision to have an abortion to save her life," and a Lawrence County grandmother who'd admonished him, as only a grandmother can, to not "let us go back to what it was like before [Roe v. Wade].
"And thanks to so many of you, we won't," he said, to cheers from the crowd.
And while he never mentioned his Republican opponent by name, it was hard to miss the barbs fired at state Sen. Doug Mastriano, whom Shapiro beat by double-digits last November, and the other GOP lawmakers who'd tried to topple the 2020 election results and who had worked to limit access to the polls.
"Here in Pennsylvania, we didn't allow the extremists who peddle lies drown out the truth," Shapiro said. "We showed that our system works and that our elections are free and fair, safe and secure.
"We assume this obligation to defend democracy not merely to honor the work of our ancestors but rather to build on a foundation so we can make progress for our children," he continued.
As he did on the campaign trail, Shapiro, a practicing Jew, contrasted the 'freedom' embraced by ultra-conservatives to the freedom he envisions for all Pennsylvanians.
His decision to swear the oath of office on holy books that included scriptures on-loan from Pittsburgh's Tree of Life synagogue, the site of the deadliest incident of antisemitic violence in the nation's history, made the contrast all the more vivid.
It's "the kind of real freedom that comes when you live in a Commonwealth that respects you for who you are – no matter what you look like, where you come from, who you love or who you pray to," he said.
That's the tightrope that Shapiro will have to walk. But as he noted on Tuesday, he won't be doing it alone.
"Each of us can make a contribution. And, in many different ways, we've shown that when it is all on the line, Pennsylvanians step up, and do their part," he said at one point, adding later that, "my own faith teaches me that no one is required to complete the task, but neither are we free to refrain from it."
That's the real challenge of governance. It's uncharted territory for Pennsylvania. The journey starts now.
–
Copyright 2023 John L. Micek, distributed exclusively by Cagle Cartoons newspaper syndicate.
An award-winning political journalist, John L. Micek is Editor-in-Chief of The Pennsylvania Capital-Star in Harrisburg, Pa. Email him at jmic[email protected] and follow him on Twitter @ByJohnLMicek.