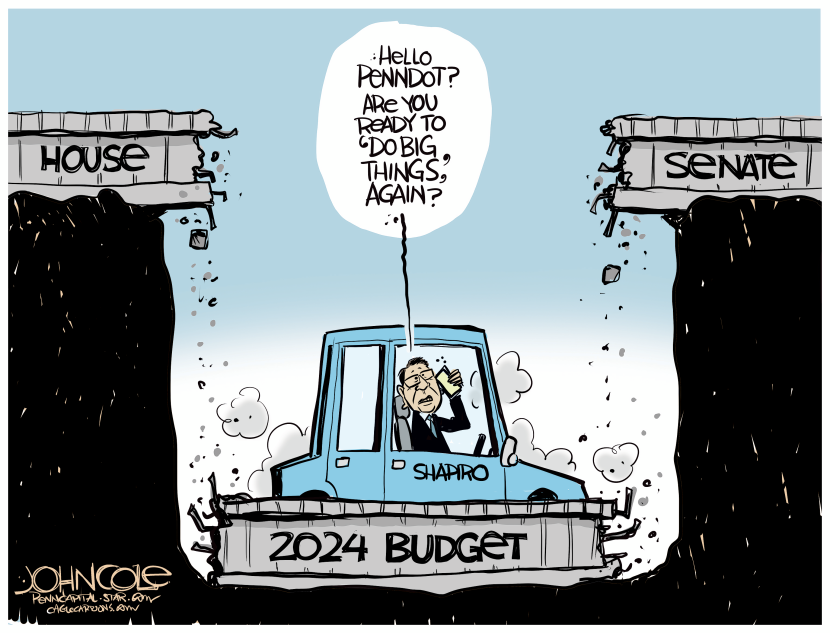 Subscribers Only Content
High resolution image downloads are available to subscribers only.
---
Not a subscriber? Try one of the following options:
OUR SERVICES
PAY-PER-USE LICENSING
FREE TRIAL
Get A Free 30 Day Trial.
No Obligation. No Automatic Rebilling. No Risk.
For those of you who haven't been paying attention, Pennsylvania's three-week-old budget impasse is the ultimate, binge-worthy summer drama.
There are great storylines, with real-world implications with fascinating characters in leading roles. And, like any addictive warm-weather series, the chances are pretty good that politics-watchers in the Keystone State will be obsessively tuned into something else by Labor Day.
But right now, with little else to fill a summer news vacuum, speculation on whether Democratic Gov. Josh Shapiro has torched his relationship with the Republican-controlled state Senate, dinged his image of cool-headed professionalism, and tanked his chances of one day becoming president (already an absurdly premature narrative) is all that anyone in the highly self-referential state capital of Harrisburg can talk about.
But a deep exhalation — and a look at the history books — strongly suggests that Shapiro, just like Geralt of Rivia in the Netflix fantasy drama, "The Witcher," will find his way out of his current predicament, and peace and sanity will be restored on The Continent.
It might just take a while — instead of TV's very efficient 59-ish minutes.
The Background: The Commonwealth is in the predicament it currently finds itself because Shapiro, facing a firestorm of criticism from his fellow Democrats and their allies in organized labor, said he'd line-item veto a $100 million appropriation for a private school vouchers program included in his 2023-24 budget. The deadline to pass a new spending plan is June 30 every year.
Republicans accused the Democratic governor of breaking a deal he made with them. Shapiro has maintained that Senate Republicans failed to close the deal with Democrats who hold a narrow, 102-101 majority in the state House, the Capital-Star reported.
Right now, Senate Republicans are refusing to sign the $45.5 billion general appropriations bill that both chambers approved earlier this month. That's a procedural technicality required to send the bill to Shapiro's desk.
The political future thing: There's no doubt that the breakdown in budget talks is a rare misstep for Shapiro, who ran a remarkably mistake-free campaign for governor in 2022, and who was riding a national buzz with the swift reopening of a collapsed portion of Interstate 95 in northeast Philadelphia last month.
Shapiro could see a dent in his approval ratings if the stalemate drags on into the late summer or early fall. He was above 50% for both his overall popularity and his budget management in a June 28 Quinnipiac University poll.
It's also worth noting that lawmakers will hear increased criticism if a stalemate drags into the dog days of summer, as state programs start to run out of money, school districts start to cry for help, and county governments, many controlled by Republicans, sound the alarm.
But even if Shapiro's approval numbers dip further, the odds are that he's unlikely to suffer a long-term political price. Both Rendell and Wolf, each battered by bruising budget battles, respectively cruised to re-election in 2006 and 2018.
What's Next: Well, "The Witcher" is taking a bit of a mid-season breather and will return July 27. And it looks like the Legislature, knowingly or not, is following suit, with the House and Senate currently not scheduled to return to Harrisburg until September. Though it's possible the two chambers could return earlier in the event of a breakthrough.
State House Majority Leader Matt Bradford, a Democrat, has suggested that he thinks the two chambers also could benefit from a cooling off period.
"I think there's going to be some period of time where we've got to reset," he said.
And that may well be what it takes. All great dramas are nothing without a resolution. And history suggests that this, too, shall pass.
–
Copyright 2023 John L. Micek, distributed exclusively by Cagle Cartoons newspaper syndicate.
An award-winning political journalist, John L. Micek is Editor-in-Chief of The Pennsylvania Capital-Star in Harrisburg, Pa. Email him at jmic[email protected] and follow him on Twitter @ByJohnLMicek.